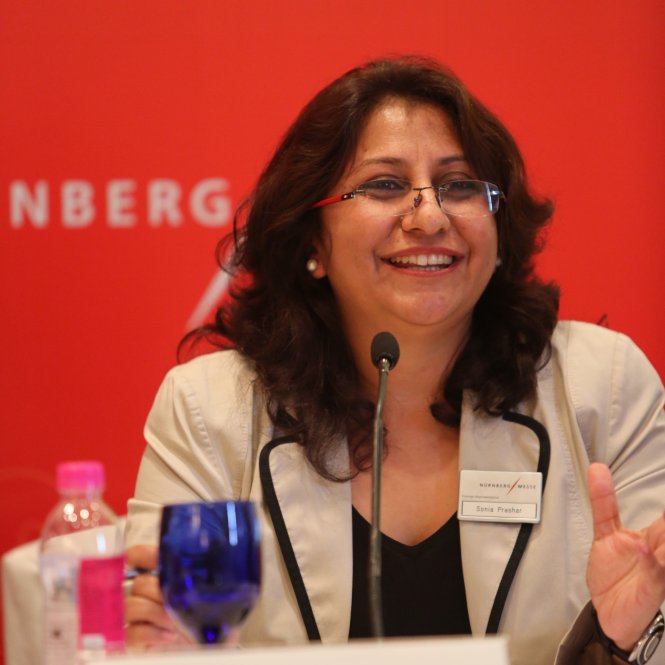 Magazine
Experiencing fairs
10 years NürnbergMesse India: Sonia Prashar - the woman behind the success
8. May 2023
Sonia Prashar is Managing Director of NürnbergMesse India. Since its foundation, she has been at the helm of the company, which is celebrating its 10th anniversary these days. Like no other, she understands it for the ties between India and Germany.
Born in Delhi as the second of five girls, Sonia Prashar forged her bond with Germany at an early age. First she taught as a young academic with degrees in education and German at the Goethe Institute in New Delhi, then she took the decisive step of joining the Indo-German Chamber of Commerce (IGCC) - an attentive colleague had alerted her to the vacant position there. "A three-month trial job has turned into 17 years, I love this work," Sonia Prashar proudly told the founding hour of NürnbergMesse India in 2013. Her long years at IGCC predestined her for the job as CEO of the then fifth subsidiary of the NürnbergMesse Group. She had already forged the first delicate ties with the Franconians in 2006: At that time, as Director "Marketing & Exhibitions" of IGCC, she was in charge of Indian projects of NürnbergMesse.
The year 1999 - her first longer stay abroad in Düsseldorf - was formative for the young, ambitious woman. "There I learned to take responsibility, take initiative and develop a sense of precision," Sonia Prashar recounts, "but without stopping to think Indian and extol virtues from the subcontinent such as adaptability. "The ideal is an intersection between perfection and flexibility!"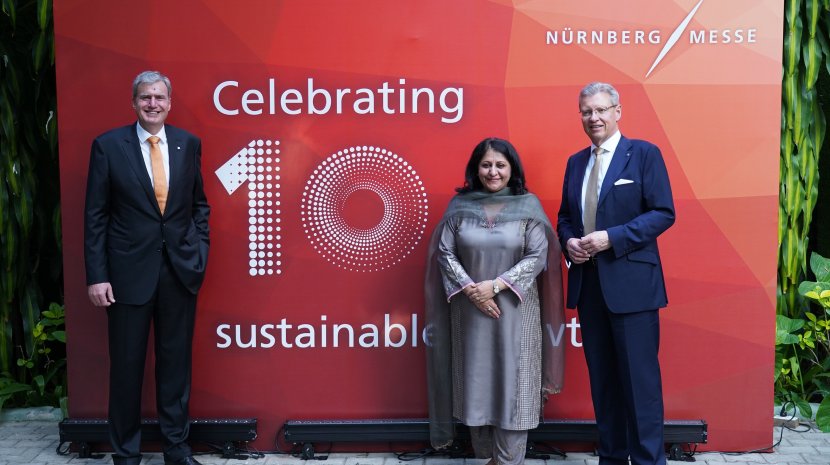 She internalized this "Indian-German Way" and with her mantra "Enjoy what you do" she also infected her team right from the start. Thus, the first chapters of the success story of the new subsidiary were quickly written.
Already at the 5th anniversary in 2018, Sonia Prashar and her team could look back on two awards in recognition of excellent work: "Corporate Excellence" award for the whole team and the title "Super Woman of the Indian Exhibition Industry" as a mark of respect for a woman who at that time had already been on the board of the Indian Exhibition Industry Association IEIA for some time and whose president she is now.
When Sonia Prashar talks about her job, she goes into raptures: "Meeting new people, approaching new topics, the dynamics of diverse industries, the art of bringing people together, learning to negotiate, drawing up budgets and putting floor plans on paper - how can you get bored with such an exciting job profile?" Add to that feelings of happiness when an event is completed, her team members beaming when exhibitors are satisfied: "That recharges my batteries and I'm ready for anything, come what may." This positive attitude is also confirmed by young career starters who appreciate her as a mentor and give her a great report card: Sonia Prashar is extremely open-minded and encouraging, they say, and conversations with her have helped them develop a better plan.
Ultimately, Sonia Prashar is grateful to be able to play an active role in India's recovery: "I believe quite strongly that the country's success story is linked to economic growth." And that, she says, is what motivates her day after day. For ten years, she has not only been Managing Director at NürnbergMesse India, but also a "Crazy eternal optimist".