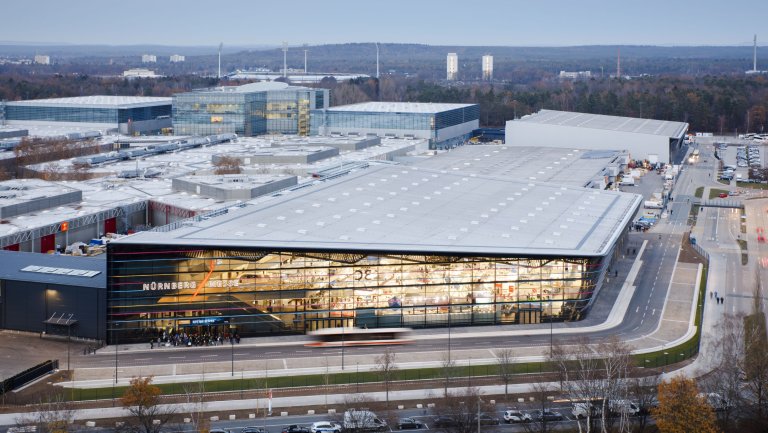 Whether it's a leading international trade fair, conference or corporate event – with its central location and excellent transport connections, NürnbergMesse has halls and conference and event locations for any kind of occasion. Flexibly configurable and equipped with the latest technology, our 16 exhibition halls offer a total of 180,000 m² of gross exhibition space. The three Nürnberg Convention Centers have conference and convention spaces for anywhere from 15 to 12,800 attendees.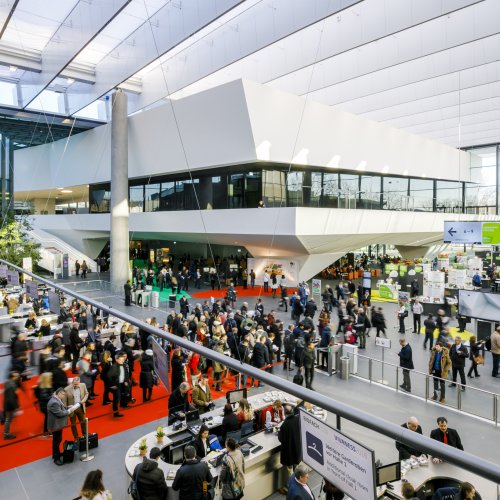 Compact site with short distances
Can be subdivided into separate segments
Extensive landscaped grounds
Mostly ground-level exhibition spaces
A total of six entry areas with all the appropriate service points
Careful separation of visitor traffic and deliveries
Halls conveniently connected for logistics
Enjoy an infrastructure designed entirely for the user!
Easily accessible from motorways, the central train station, and the airport. Directly connected to local public transport. The carefully planned separation between visitor traffic and deliveries makes setup and tear-down easy and prevents visitor queuing. Attendees can go anywhere on the site by foot within ten minutes – guided by the myLocation wayfinding system, which provides easy orientation in the Exhibition Centre with real-time information.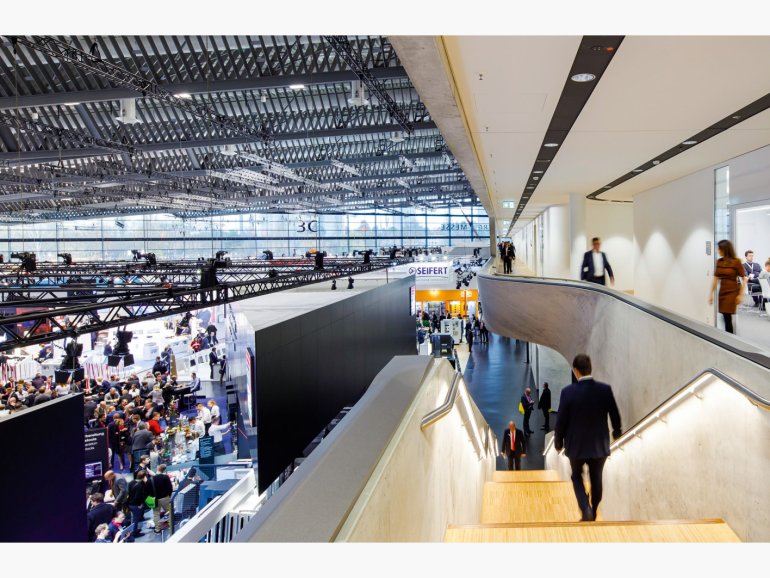 Image credit: NürnbergMesse / Heiko Stahl
Image 1 of 13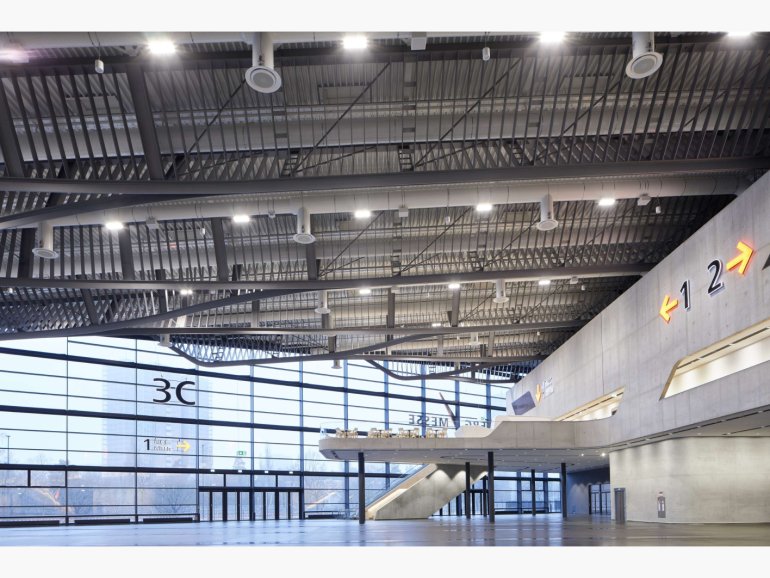 Image credit: NürnbergMesse / Heiko Stahl
Image 2 of 13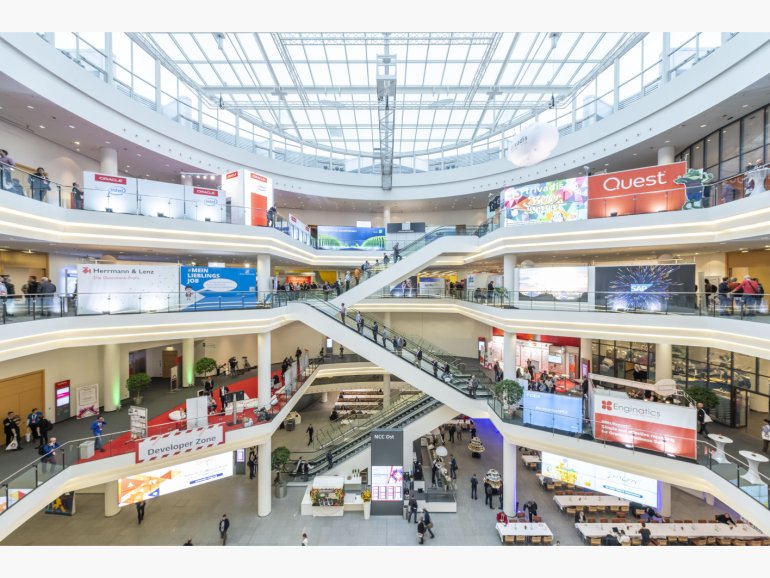 Image credit: NürnbergMesse / Matthias Merz
Image 3 of 13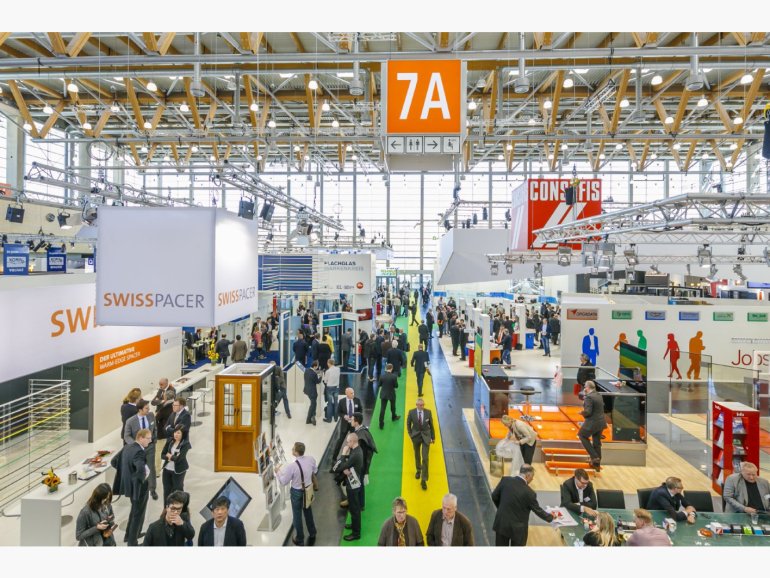 Hall 7A / Image credit: NürnbergMesse / Heiko Stahl
Image 4 of 13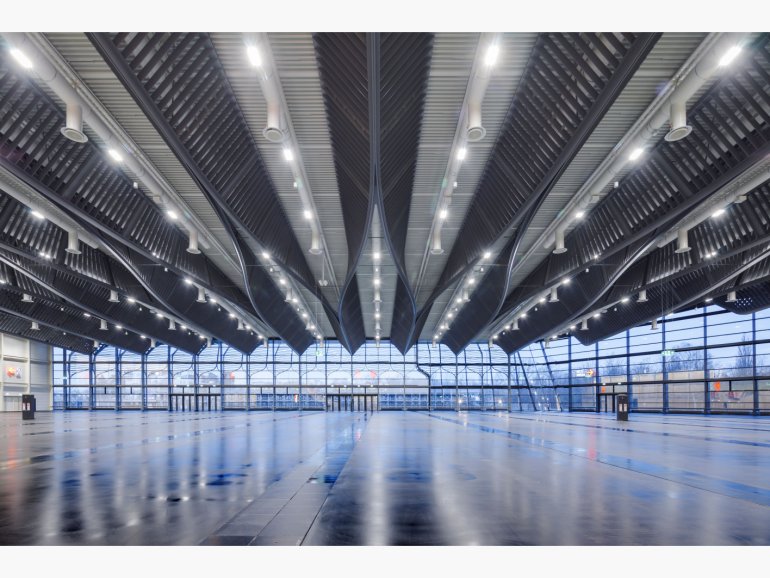 Halle 3C, Innenansicht
Image 5 of 13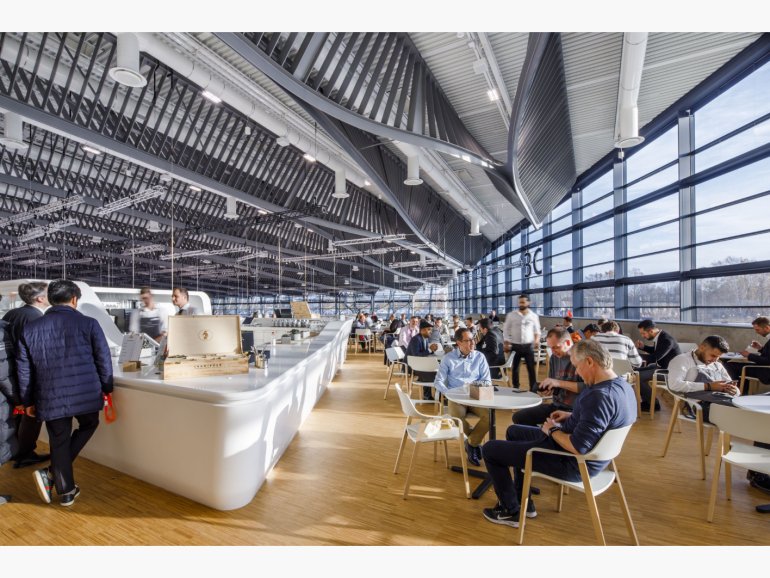 Gastrozone in der Halle 3C / Image credit: NürnbergMesse / Heiko Stahl
Image 6 of 13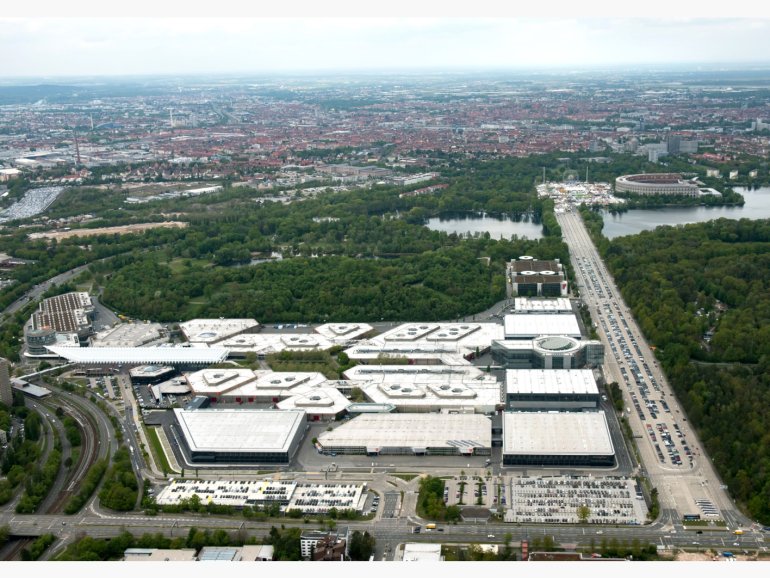 Messezentrum Nürnberg aus der Vogelperspektive / Image credit: NürnbergMesse / Bischof & Broel
Image 7 of 13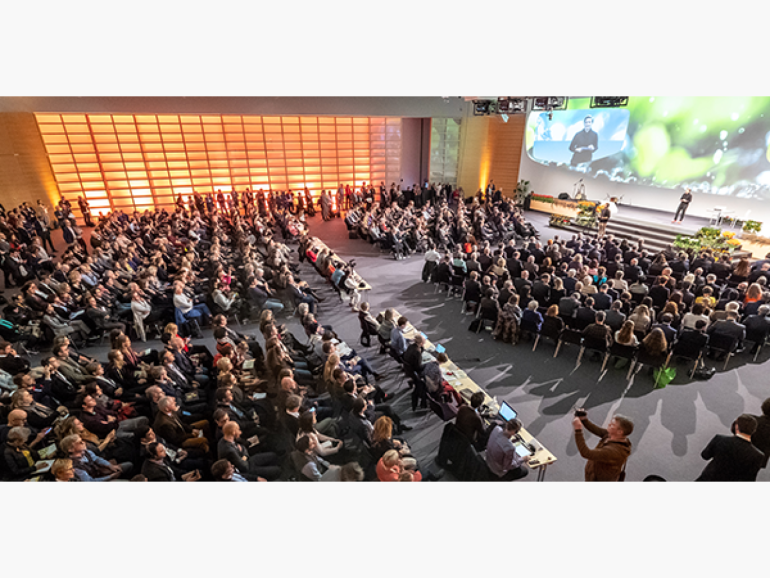 Image credit: Thomas Geiger
Image 8 of 13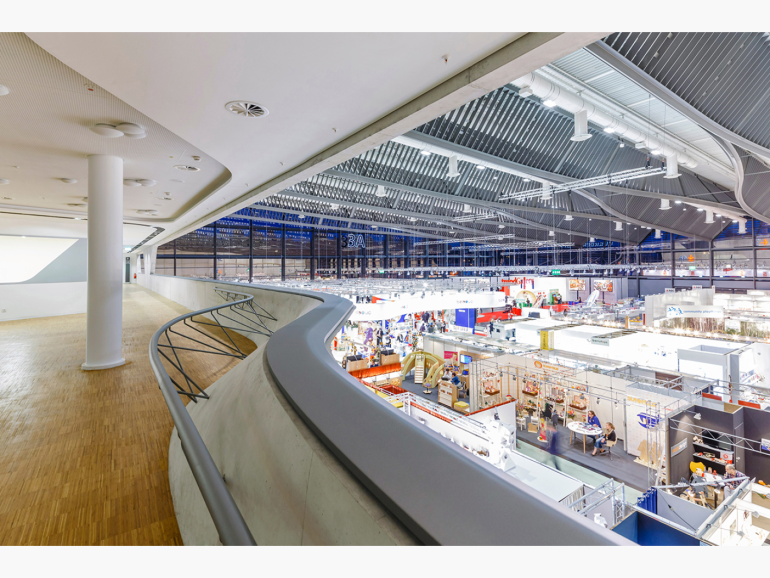 Image credit: NürnbergMesse / Heiko Stahl
Image 9 of 13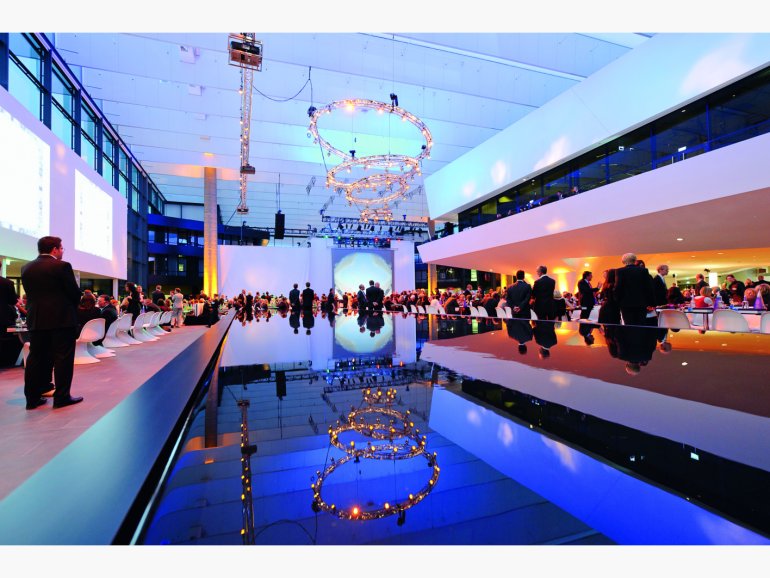 Image credit: NürnbergMesse / Heiko Stahl
Image 10 of 13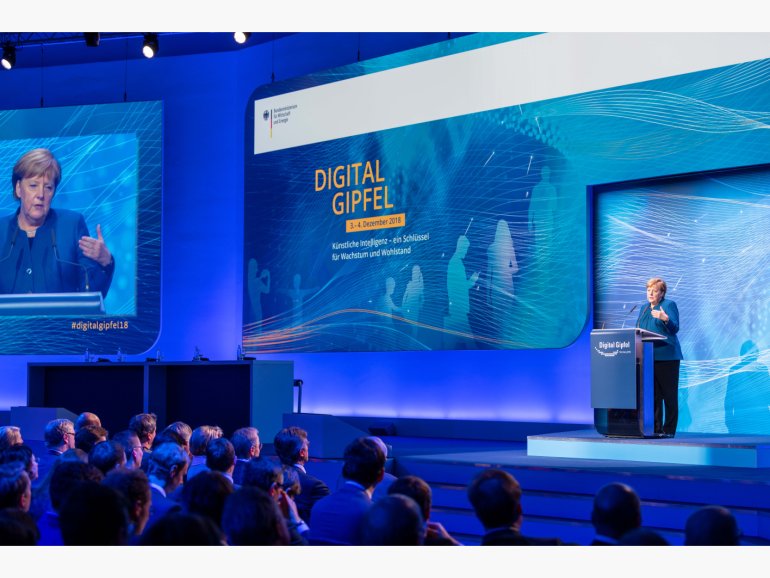 Image credit: NürnbergMesse / Matthias Merz
Image 11 of 13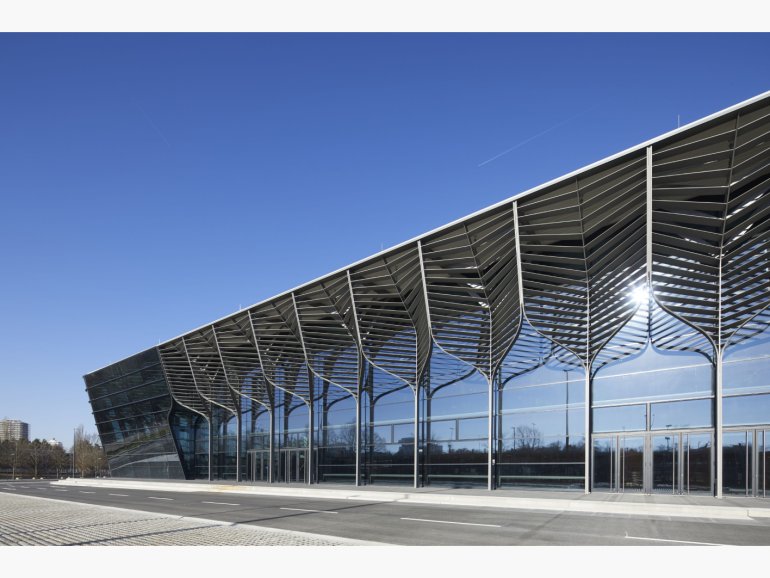 Halle 3C / Image credit: NürnbergMesse / Heiko Stahl
Image 12 of 13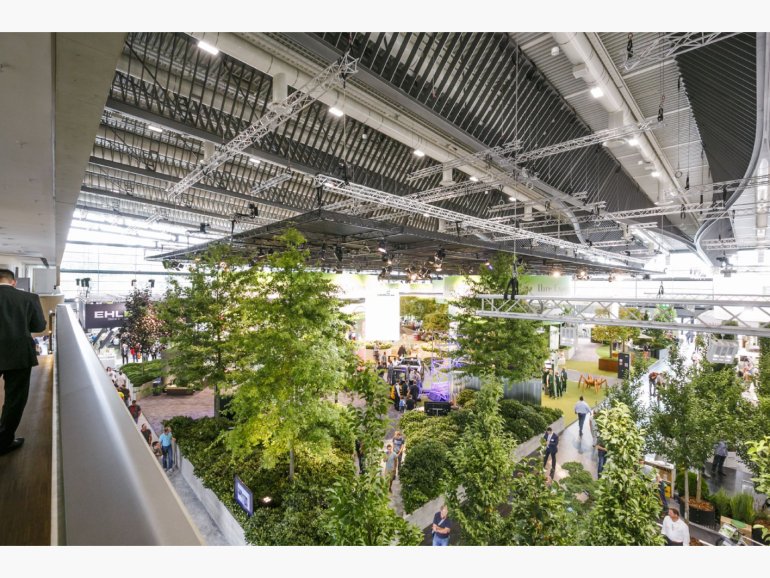 Image credit: Heiko Stahl / NürnbergMesse
Image 13 of 13
m² of gross indoor exhibition space
m² of gross open-air exhibition space
Hall 1: 10,800 m²
Hall 2: 4,680 m²
Hall 3: 12,730 m²
Hall 3A: 8,400 m²
Hall 3C: 9,600 m²
Hall 4: 11,690 m²
Hall 4A: 7,020 m²
Hall 5: 7,840 m²
Hall 6: 7,840 m²
Hall 7: 16,410 m²
Hall 7A: 8,850 m²
Hall 8: 4,680 m²
Hall 9: 10,800 m²
Hall 10.0: 6,720 m²
Hall 10.1: 6,870 m²
Hall 11.0 / Frankenhalle: 5,340 m²
Hall 11.1 / Frankenhalle: 4,780 m²
Hall 12.0: 13,730 m²
Hall 12.2: 13,330 m²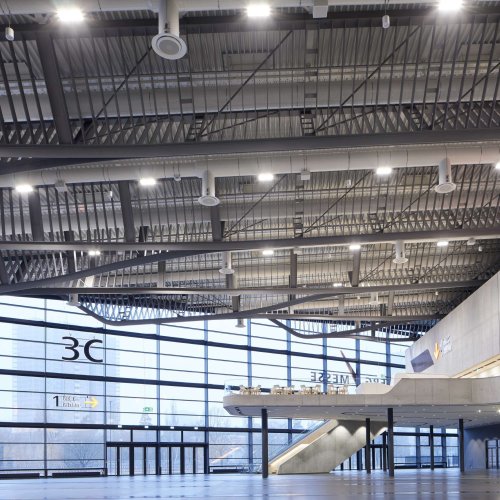 Our Halls 3A and 3C opened in 2014 and 2018 and have been thrilling clients, exhibitors, and visitors ever since. The work of star architect Zaha Hadid, these halls are not just highlights of architectural design, they also serve as role models of energy efficiency. According to the experts from the DGNB, the German Sustainable Building Council, no other exhibition halls anywhere in the world offer statistics comparable to NürnbergMesse's 3A and 3C – which is why both halls have been awarded the DGNB's Platinum Certificate.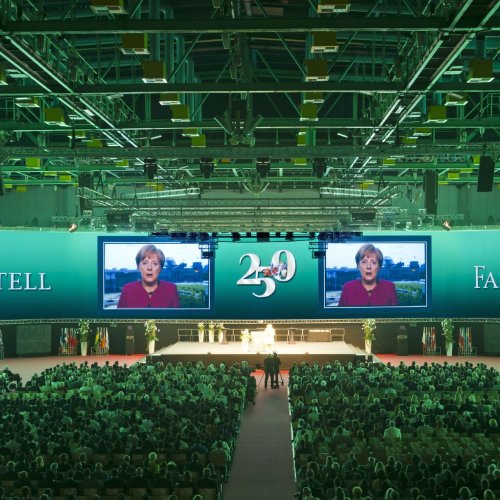 The Frankenhalle, with a plenary capacity of up to 5,000 seats and versatile uses, is a multifaceted facility for the upper-level conference segment. Its variable layout with a retractable telescoping stage and its innovative presentation equipment offer the ideal setting for impressive occasions. Whether it's a live TV event like the Bavarian Broadcasting Company's "Sternstunde" charity gala or corporate events for AUDI, EDEKA, and Faber-Castell – the Frankenhalle is our multifunctional venue.
With a capacity of up to 12,800 attendees, the three NürnbergConvention Centres offer unique options for your event. Their layout provides maximum flexibility and can be tailored to your needs. For large conferences, product presentations, employee events, or gala evenings, the NürnbergConvention Centres have exceptional potential – and you're definitely invited!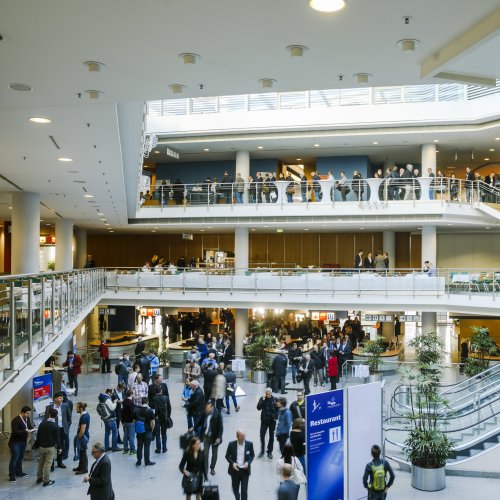 The contemporary NCC West Conference Centre stands out for its short distances. Along with NCC Mitte, which adjoins it by way of a glassed-in corridor, it offers seating for more than 8,000. Its spaces are bright and open and can be flexibly connected: A meeting room, for instance, can be transformed in no time into an inviting lounge-like setting for get-togethers. A state-of-the-art dividable exhibition hall for an accompanying exhibition or event directly adjoins the ground-level lobby. There's plenty of room for all your ideas!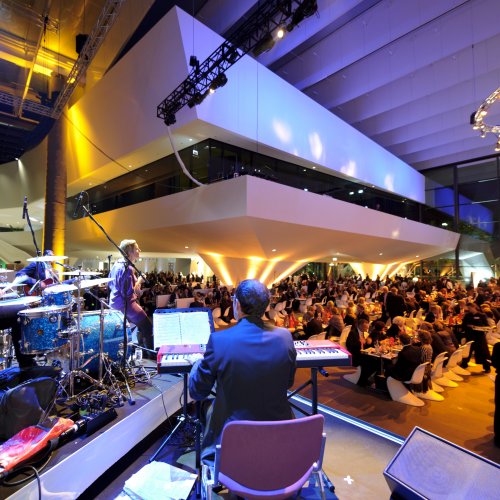 First impressions count. NCC Mitte is the central entrance to the Exhibition Centre. Its entry hall covers more than 6,000 m² and provides an incomparable setting with its spectacular roof of inflatable slats. The hall Brüssel, for up to 1,000 guests, offers the ultimate in conference equipment and outstanding acoustics. Adjoining it on the same level are medium-sized and smaller conference rooms, like the subdividable hall München . All surround a central piazza that's ideal for stand-up receptions and lunch breaks.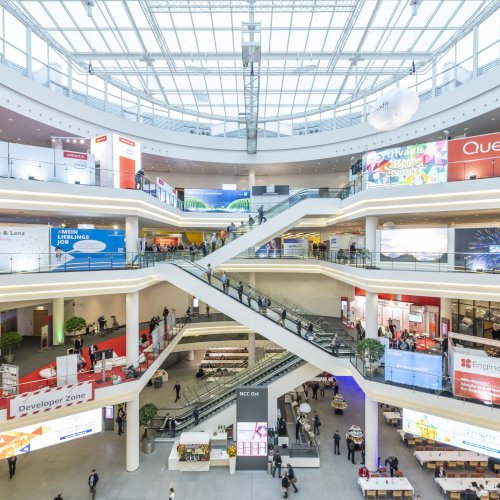 NCC Ost has exerted a magnetic appeal from the moment it opened. It sets new standards with its impressive glass roof, which distributes daylight down through its four levels and their broad tiered galleries all the way down to the central ground-floor atrium. The open, expansive atmosphere provides an ideal environment for successful events, from large pan-European medical and pharmaceutical conferences to international marketing meetings and the German government's digital summit conference.
From street food to refined regional organic cuisine – the Nuremberg Exhibition Centre offers extensive culinary diversity. A whole range of high-quality restaurants, easily accessible snack bars, small cafés, and Lehrieder's event catering can fulfil any number of epicurean desires.
Seven restaurants with more than 1,700 seats
Seven bistros with more than 600 seats
Three cafeterias in the entry areas
Flexible add-on restaurants as needed in the halls
13,500 parking spaces (including recharging stations)
6,500 parking spaces within walking distance
3,000 of them in the indoor garage
Additional parking nearby (a few minutes away by shuttle bus)
Excellent connections with six federal motorways
An innovative traffic guidance system to the site
Numerous ICE and IC arrivals and departures in Nuremberg
Many European direct flights and connections to European hubs from Nuremberg Airport
Eight minutes by underground from Nuremberg Central Station and 25 minutes from the airport
Image credits:
Header: NürnbergMesse / Heiko Stahl