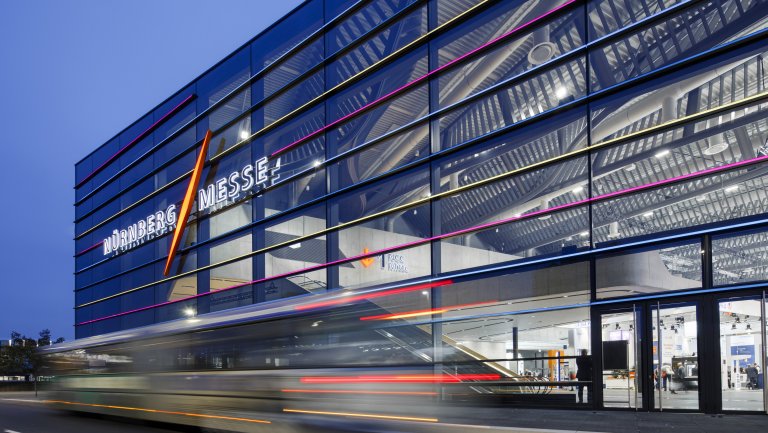 NürnbergMesse Service GmbH is a wholly-owned subsidiary of NürnbergMesse GmbH (100%). It's a part-owner of SMT/ASIC/Hybrid MESAGO Messe & Kongress GmbH & Co. oHG, which holds the rights for the SMTconnect trade fair. NürnbergMesse Service GmbH also organises special events for the hunting and sporting weapons sector at the Jagd & Hund fair in Dortmund and Pferd & Jagd in Hannover.
NürnbergMesse Beteiligungs-GmbH (100%) provides market activities that support NürnbergMesse GmbH. It holds the rights to the FENSTERBAU FRONTALE, BIOFACH, and EUROGUSS trade fairs.
Trade fair construction service provider Holtmann GmbH & Co. KG (66,67%), headquartered in Langenhagen near Hanover, has been one of three Service Partners for the construction segment at the Nuremberg exhibition site since back in 2009.
Mesomondo is a specialist in designing and executing modular and custom fair booths. It also offers trade fair accessories and services for its clients. Mesomondo is a 100% holding of Holtmann GmbH & Co. KG. Mesomondo's office at the Nuremberg Exhibition Centre allows the company to respond quickly and flexibly to client needs.
Catering specialist Lehrieder has long been a Service Partner in Nuremberg, and it has been a wholly-owned subsidiary of NürnbergMesse since 2020 (100%). Its selection of services includes catering for trade fairs and events, with service for guest lists from 30 to 30,000 people.
MedtecLIVE GmbH is a wholly-owned subsidiary of NürnbergMesse GmbH (100%) and organises the medical technology fair that bears its name.
NürnbergMesse GmbH holds a stake in AMA Service GmbH (49%), which produces the SENSOR+TEST trade fair in Nuremberg.
Image credits:
Header: NürnbergMesse / Heiko Stahl