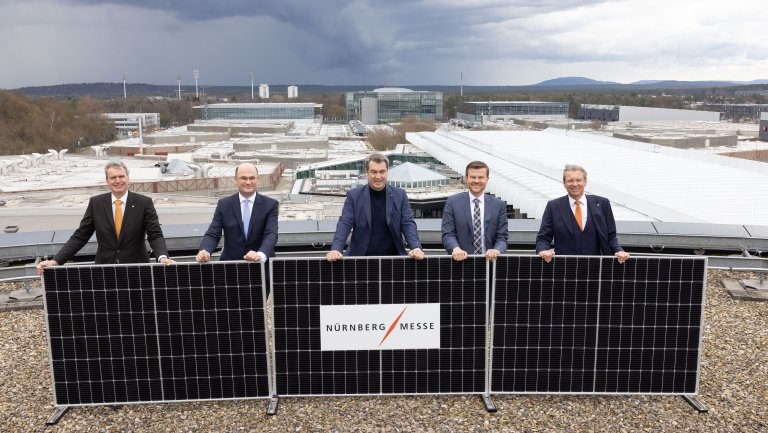 Hybrid power plant - module laying in the exhibition center
With the module laying of the first of soon to be 21,000 photovoltaic modules on the roofs of the exhibition center, NürnbergMesse started the first expansion stage of its planned hybrid power plant in March 2023. With solar panels on nine building roofs, NürnbergMesse will soon generate its own solar power on a total area of 75,000 square meters.
The aim is to achieve a climate-neutral energy supply for NürnbergMesse by 2028. The NürnbergMesse hybrid power plant, which in the first construction phase consists of a photovoltaic system and a battery storage system, plays a central role in this. This enables NürnbergMesse to use as much as possible of the solar power it produces itself and to reduce peak loads when drawing electricity from the grid.
But that's not all: in a further expansion stage, photovoltaic modules are to be installed on a total of 17 buildings and an area of up to 150,000 square meters. This will give the plant a total output of around 20 megawatt peak - roughly the electricity consumption of a small town with 20,000 inhabitants.
At the heart of the plant is an innovation: the so-called "digital twin". The tool for planning and operating the hybrid power plant has calculated the optimum dimensioning of the plant components for the exhibition center and will provide intelligent load management when the plant is in operation.
Photovoltaics

Battery storage

Hydrogen

Climate neutral
With 20 megawatt peak, Bavaria's most powerful photovoltaic system with Bavarian participation is being built on the roofs of NürnbergMesse. This will make the exhibition company more independent and sustainable in its electricity consumption.