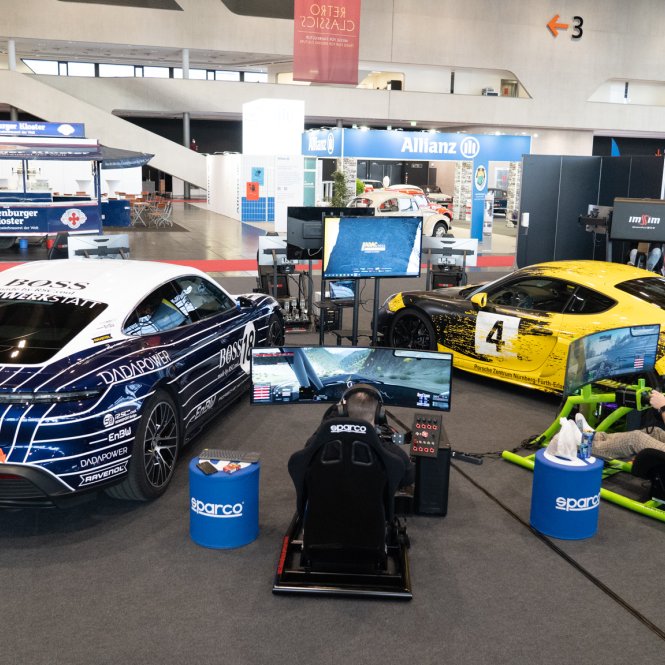 Magazine
Experiencing fairs
SimRacing Expo: Adrenalin in the digital cockpit
1. December 2022
It gets the adrenalin pumping and the hearts of car fans beating faster: Sim Racing - virtual car races that feel as if they were real. Parallel to the classic car show RETRO CLASSICS BAVARIA, the ADAC SimRacing Expo will take place for the first time - e-motorsport fever is making its way into the exhibition halls in Nuremberg.
They have all succumbed to the allure: Formula 1 stars such as world champions Max Verstappen and Sebastian Vettel or Ferrari driver Charles Leclerc are seen as draught horses for virtual racing simulation. Sim racing has become increasingly popular since Corona and is already one of the most popular types of e-sports. "It currently combines real racing teams like Porsche or Red Bull Racing with e-sports teams like Coanda or G2 Esports in one sport," explains Alexander Kreis from the ADAC SimRacing Expo team, "people all over the world in one race."
National and international championships and cups have been run for years, and all of them feature prominent drivers. DTM champion Bruno Spengler, for example, took part in the virtual edition of the Le Mans 24-hour race. The legendary Brabham team of ex-Formula 1 boss Bernie Ecclestone wants to enter a new racing series.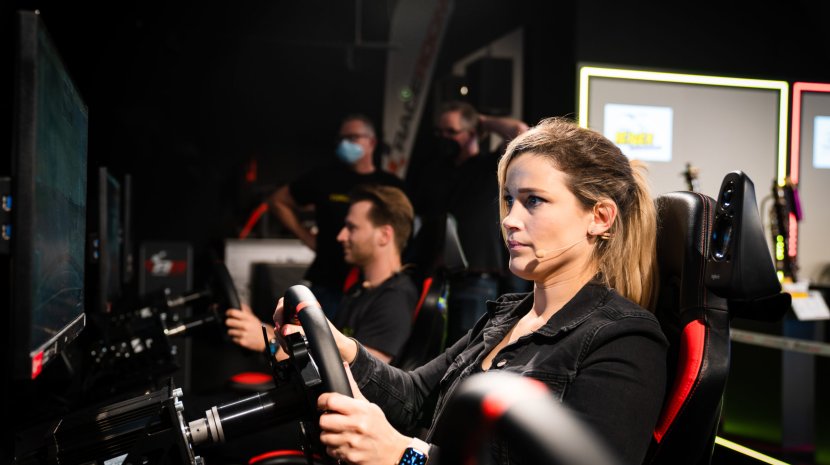 To race yourself at home, all you need is a game console or a gaming PC and the right software. Just like in a real race, you have to pay attention to fuel consumption and tyre wear. Different weather conditions and changing road conditions are simulated. In most games, the world's well-known racetracks are recreated in great detail. However, to really feel the real driving experience, real racing equipment is required: racing chair, pedals and steering wheel.
"SimRacing has a huge target group. Anyone who can drive or relates to cars is part of it - it's just that a lot of people don't know it yet."
The SimRacing exhibitors bring the impressive diversity of the simulator world to Nuremberg. The spark was already lit at the teaser event at RETRO CLASSICS BAVARIA 2021. Michael Wamser, CEO of co-organiser Cowana, describes why: "SimRacing has a huge target group. Anyone who can drive or has a connection to cars is part of it - it's just that many don't even know it yet." Innovative hardware for the home can be tried out for free, from desk setups to high-end racing including virtual reality and motion effects.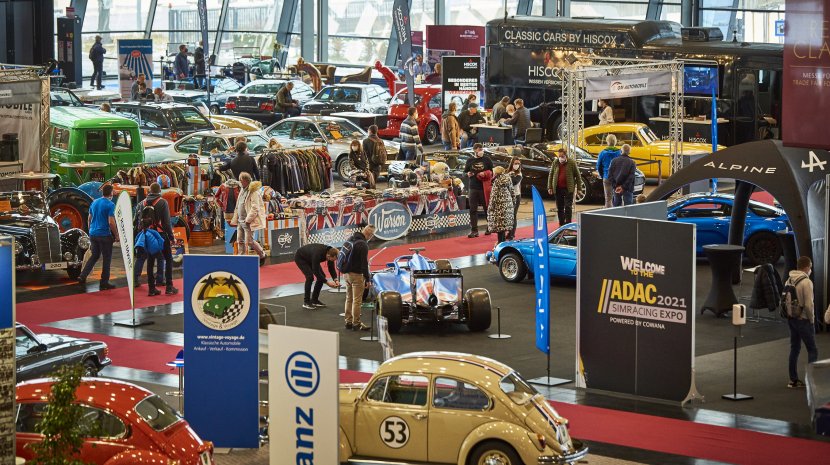 Automotive dreams to touch are next door. Since 2016, the trade fair for driving culture, RETRO CLASSICS BAVARIA, has been presenting an old-youngtimer meeting of the most beautiful kind. Automobile sights with beautiful curves and in all shapes and colours - from the Peugeot 301D from 1935 and the 300 SL Roadster in uranium yellow to exhibits by the living Nuremberg legend, Fritz Neuser, such as the Testarossa "Urtyp" in the unmistakable slat design by Pininfarina.
Everything to do with historic vehicles awaits car enthusiasts: performance and special shows, a vehicle sales exchange, restorers, automobile clubs and a varied supporting programme with an entertaining evening event.