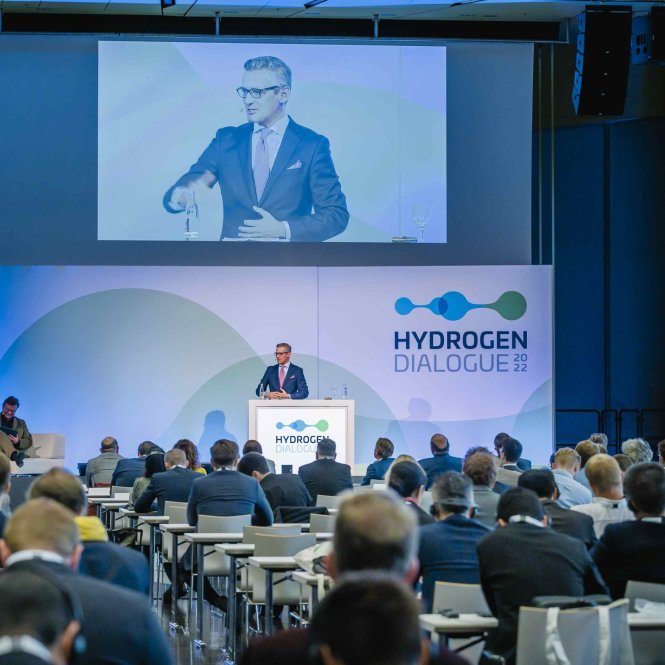 Magazine
Shaping the future
International hydrogen economy takes off
8. November 2022
2022 is a good year for hydrogen. The third edition of the HYDROGEN DIALOGUE in September in Nuremberg was more international than ever before. With the step to South America and the premiere of the Brazil Edition of the HYDROGEN DIALOGUE in November, the international hydrogen community gets additional strong tailwind.
It all started in Nuremberg. Prof. Dr. Roland Fleck, CEO of the NürnbergMesse Group together with Peter Ottmann, described the first edition of the HYDROGEN DIALOGUE 2020 as the "central European meeting place for hydrogen technology": "The right minds come together here to develop business cases that work."
The format has worked from the very beginning. Even at the first two digital events, a hydrogen community formed in front of the screens and grew steadily. At the 3rd HYDROGEN DIALOGUE - as a hybrid event live on site and parallel on a digital platform - more than 1,000 participants from business, science and politics were welcomed. They came from Germany and all parts of the world.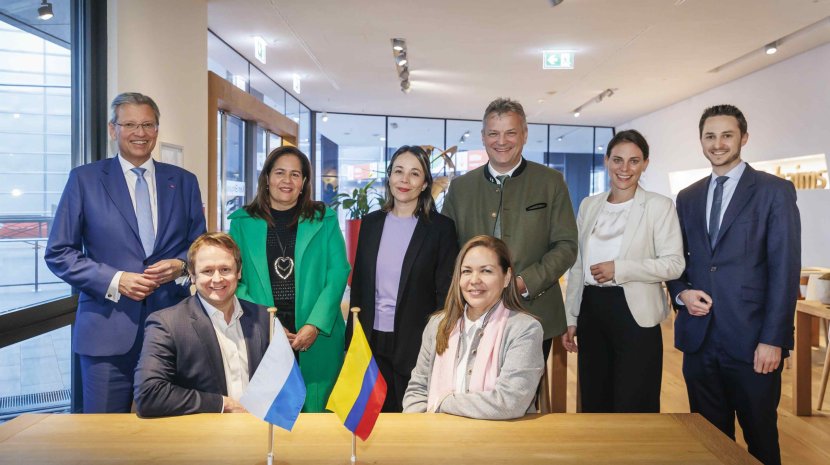 Australia, Argentina, Chile, Canada, Scotland and Colombia as well as Brazil, Estonia, Hungary, India, Japan, the Netherlands, Panama, Poland and Tunisia: High-ranking international representatives from politics and diplomacy as well as experts from business and science provided the necessary impetus in Nuremberg for a successful ramp-up of a global hydrogen economy.
A visible sign of the growing cross-border cooperation was the signing of a letter of interest at the Nuremberg Exhibition Center on cooperation between the Free State of Bavaria and Colombia, a country with great potential for green hydrogen in South America. Roland Weigert, State Secretary in the Bavarian Ministry of Economic Affairs, is confident "that together we will be able to conduct application-oriented research into the production of hydrogen, so that we can quickly launch concrete joint projects".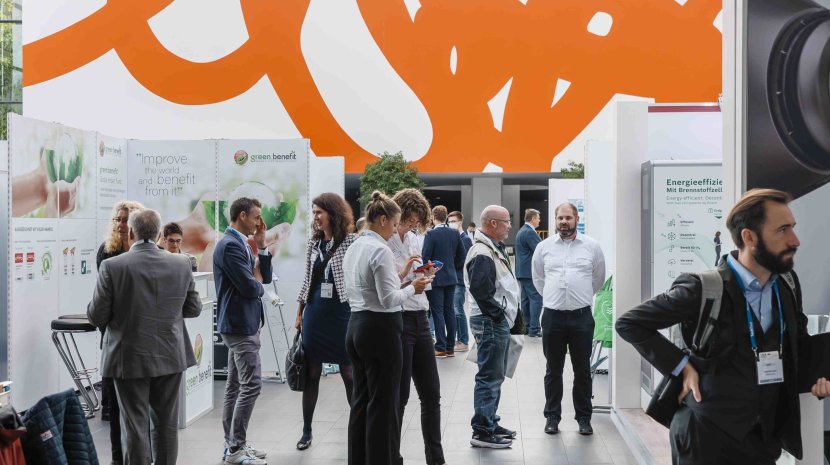 The premiere of the Brazil Edition of the HYDROGEN DIALOGUE Latin America on November 9 and 10 in São Paulo is also very concrete. As in Nuremberg, decision-makers from the entire value chain will meet here. "With this, we want to accelerate technological development in the field of green hydrogen in Brazil and Latin America and show the way for scientific development, innovation and new commercial applications," says João Picolo, Managing Director of NürnbergMesse Brasil.
The hydrogen community is growing together, becoming larger and more international - a spirit of optimism that was also palpable in Nuremberg. Michael Pfadler, Sales Manager at Stöhr, a German manufacturer of fittings for gases in liquid and gaseous state, put it in a nutshell at the event: "The HYDROGEN DIALOGUE is a good opportunity to make the world a little better together."
Image credits:
NürnbergMesse / Heiko Stahl