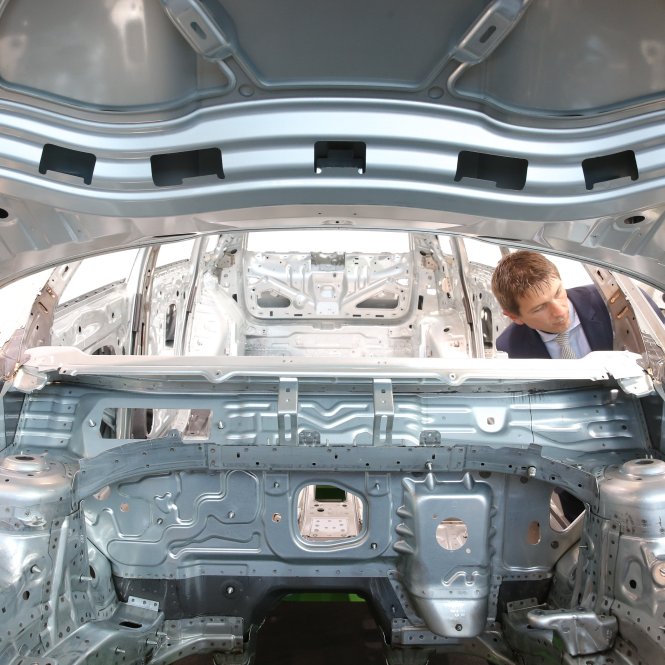 Magazine
Shaping the future
The virtual process chain and the digital twin in car body construction
31. May 2019
The central core of body construction in recent years is the increasing digitalization of engineering with all its facets. The focus topic of the AUTOMOTIVE ENGINEERING EXPO (AEE) on June 4 and 5, 2019, puts this in the spotlight: "With digital development and flexible production to new lightweight body structures". But what does this mean in practice? Virtualization is the magic word.
New drive systems and mobility concepts are rapidly driving automotive diversity. For body construction, this means that new structures and variants are required, and established processes must be redesigned - at manageable costs, of course. In order to avoid errors in advance and make processes predictable, engineering is increasingly shifting to the virtual world. More software, less hardware, is the motto.
Computer Aided Engineering (CAE) helps to simulate components, car bodies or entire vehicles and to make reliable predictions, for example how a new side member will absorb crash energy or how new alloys will behave. But not only product properties, but also process steps become predictable. This goes so far that even ergonomics in assembly can be simulated virtually to protect the health of employees.
There is great interest in the industry in mapping the entire production process as a digital twin. The major goal is to combine subsections into an overall representation, a continuous virtual process chain, and thus to allow feedback between the individual steps. In this way, possible deformations in the joining process or paint dryer can already be taken into account in the forming process. This eliminates the need for time-consuming hardware tests.
Lighter, safer, more cost-efficient?
Even in the early stages of their development, new car bodies are optimized for typical crash situations. The aim is to divert all the forces acting on the vehicle in the event of an accident away from the occupants. Naturally, this also applies to lightweight construction. Due to legal requirements, the focus for a long time was on reducing weight: the lighter the model, the lower the fuel consumption and CO2 emissions. But the advent of alternative powertrains seems to be taking the pressure off the weight debate. The pressing questions now are: How can the body be designed more cost-effectively without compromising safety? Are materials such as new Advanced High Strength Steels (AHSS), with their strength and hot formability, helping to make structural components more cost effective now? AEE 2019 provides answers.
"In the future, it will continue to be important to reduce vehicle weight and avoid emissions. That's why we continue to prioritise lightweighting technologies at Jaguar Land Rover. It's important to us that the right material is used in the right place, whether that's aluminium, UHSS, CFRP or other materials." Andrew Foster, Chief Engineer Body Complete, Jaguar Land Rover.
The new Jaguar Land Rover I-Pace can be inspected alongside other bodies, components and parts at AEE 2019.
In the future, it will continue to be important to reduce the weight of vehicles and avoid emissions.
Flexible, independent and individual - these are the hallmarks that have made the car a successful model. These attributes have long since applied to production as well: Model variability is constantly increasing, while at the same time the number of drives is multiplying. Current production lines must be able to respond to these requirements with ever greater flexibility. But how can this be cleverly implemented with little effort? How can individual process steps also be used for variants? Will there soon be a joining technology for all joining problems?
"Over the last few years, the technological requirements for car bodies and chassis have increased massively: The material mix of different types of steel, aluminum, magnesium and plastic alone has increased significantly in complexity. Simplifications on the material and process side are therefore essential. This is exactly what the AEE provides the right platform for, where all these trends can be seen," explains Professor Dr. Christoph Wagener, Head of Research and Product Development at Kirchhoff Automotive.
Over the last few years, the technological demands on the body and chassis have increased massively.
At the AEE, numerous exhibitors will demonstrate with their products and services how more flexibility in the production process can succeed. One example: When humans and robots move ever closer together, sensors play a crucial role: They enable them to perceive things more precisely with optical and camera-based systems that turn the robot into a seeing player and let it recognize where things are.
Image credits:
NürnbergMesse / Frank Boxler