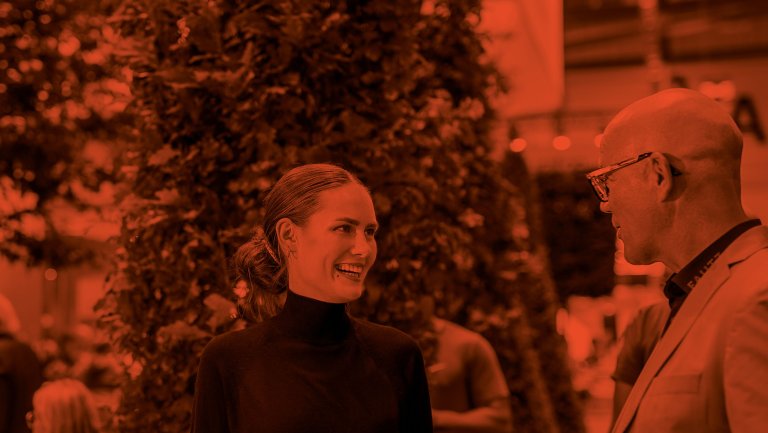 A place for experiences: Excitement, inspiration and togetherness have returned to our exhibition halls and have extended beyond the physical venues thanks to digital formats. Our concept of combining onsite and online experiences creates the best conditions for innovation.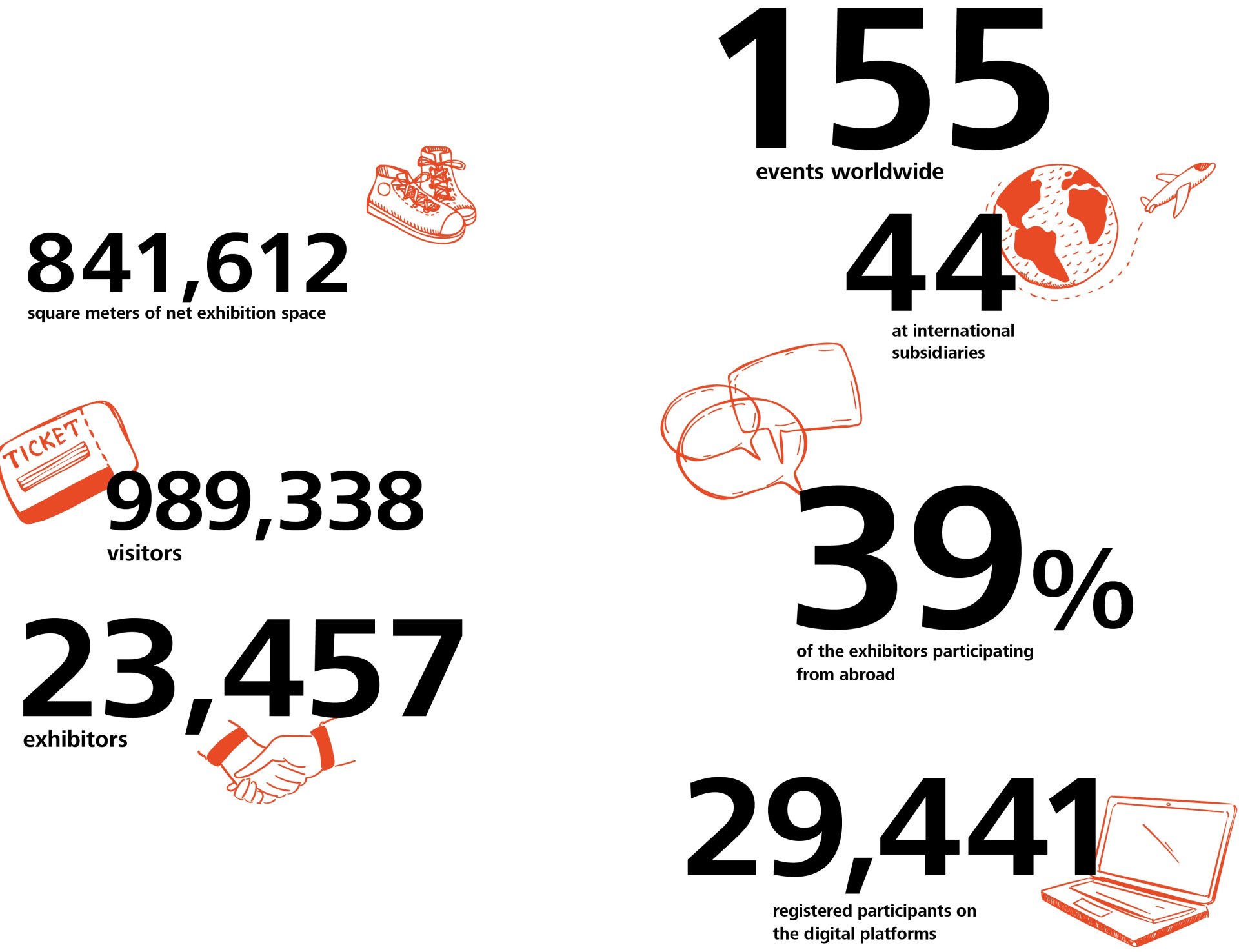 The NürnbergMesse Group's trade fairs, exhibitions, and congresses are held all over the world. The people who attend them to share ideas are served by a variety of digital services and offerings.
Our formula for the future is "onsite plus online" – because our events are all about providing the best mix of a strong physical presence and appropriate digital added value. This enables us
to combine personal exchanges and digital knowledge transfers in new and exciting event concepts.
The combination of physical trade fairs and practical digital extensions offers added value to exhibitors and visitors alike – onsite and in the home office. Hybrid events extend the industry experience far beyond the actual trade fair venue and offer new opportunities for networking and customer acquisition.
Digital extensions help ensure optimal trade fair preparations. For example, our interactive hall plan provides a quick overview of all the exhibitors. Before the fair opens, matchmaking tools help arrange appointments between exhibitors and visitors. Online lectures and interviews with experts provide a valuable channel for spreading industry expertise and news beyond the fair itself.
We are continuously developing and refining our portfolio of digital products and platforms to create an extraordinary hybrid trade fair experience for our customers. We are also continuing to integrate new functionalities, products and formats for more added value. Our focus is always on facilitating gatherings of people: onsite, online, and in hybrid formats.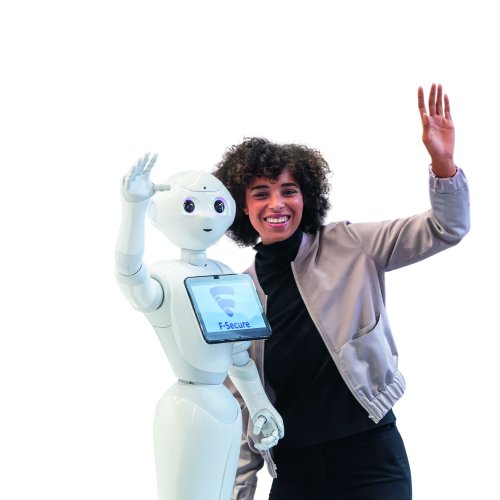 Hybrid events make it even easier to attend important industry meetings around the world. Trade fair participants onsite also benefit from the digital extensions, as confirmed by current user numbers. At the embedded world event, for example, every third visitor also used the digital platform while onsite.
Find the right answer to a question. Our digital matchmaking brings trade fair visitors together with the right exhibitors.
Our conferences are reaching even larger audiences. Experts around the world can now participate directly in streamed content communities.
Our digital communities are industry platforms that are used before, during and after a trade fair. In these communities – like at it-sa 365 – experts can meet and share ideas.
Digital services and offerings complement the onsite trade fair experience by providing added value for both exhibitors and visitors. While industry experts meet in the exhibition halls, other gatherings are simultaneously taking place on the digital level: Exhibitors and visitors network and make appointments, discuss industry challenges and innovations, and live-stream conferences and forums. Both before and after the trade fair itself, industry communities meet online on their relevant trade fair platform.
The interface between trade fair events and the IT organisation is provided by the Application Development and Data Management department. These colleagues develop new applications for exhibitors and visitors and help advance the company's
digitalisation. The focus is always on continuing to professionalise data management.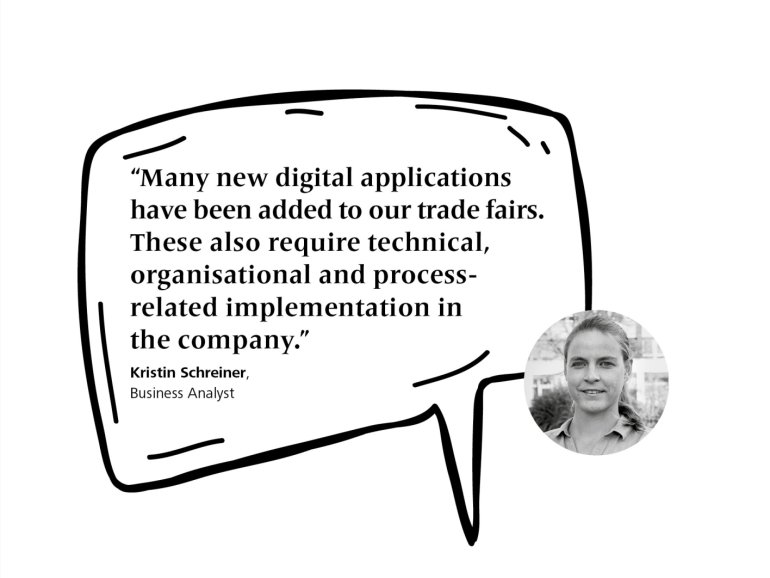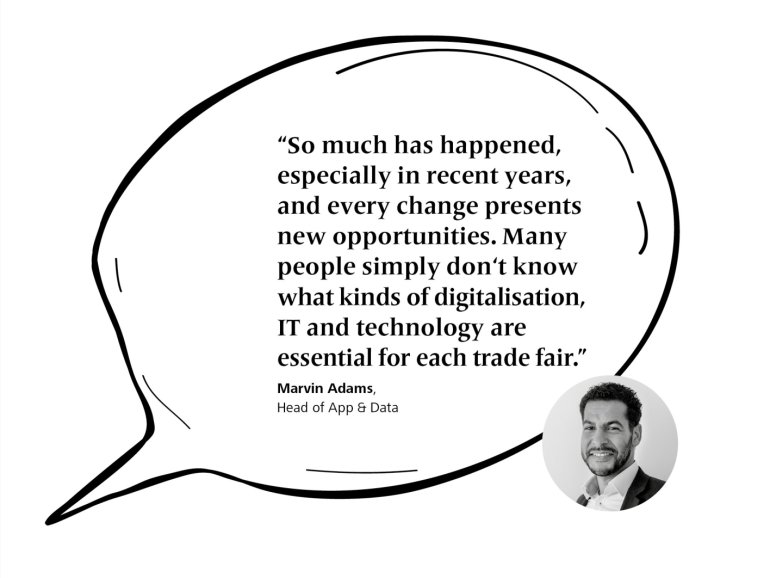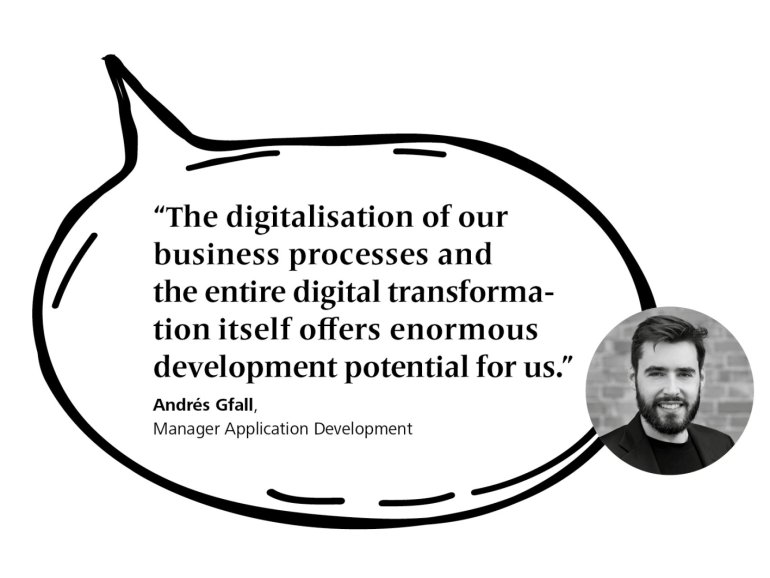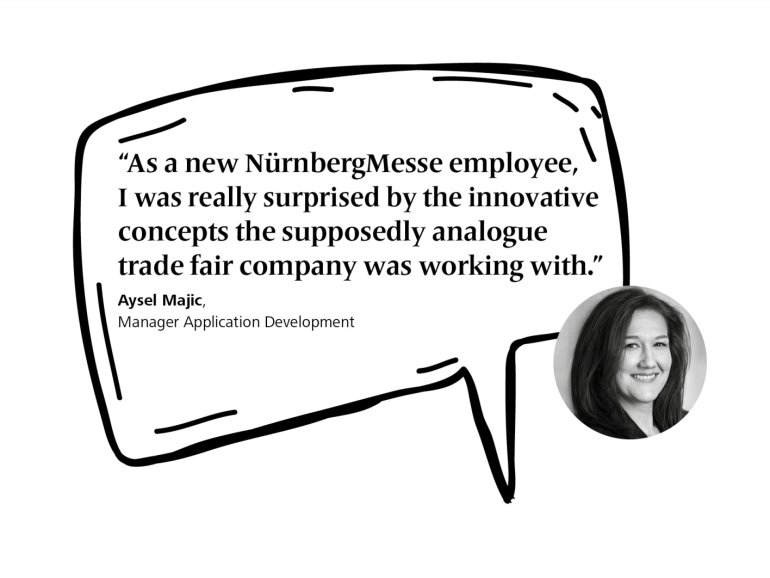 Mobile
We develop mobile-optimised trade fair apps and help shape mobility strategies for the future.
Data Governance
By structuring data, we lay the foundation for qualitative information.
Data Integration
We simplify exchanges via a central data platform and make data available at the right place and the right time.
Digital Sales
We help standardise sales processes and diversify customer contacts by implementing CRM software.
Group IT
We promote international collaboration within the NürnbergMesse Group with our integrated IT infrastructure.
Enterprise Architecture Management
Using EAM, we show the status quo of our IT architecture in relation to our business model and plan future trans­formations.
Digital Projects
Our expertise supports the implementation of digital projects.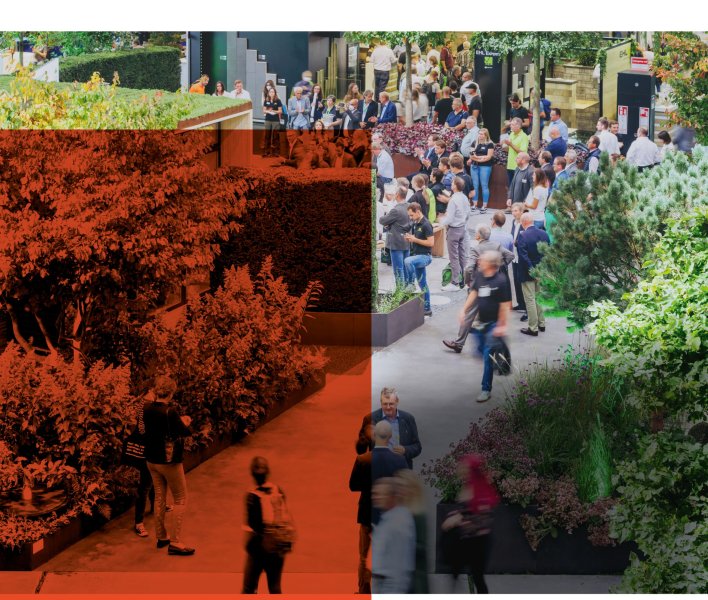 After the ban on physical events ended in the spring, the trade fair year 2022 got off to a late start at the fair venues. For the first time, most of the trade fairs in Nuremberg took place in the summer and autumn – an absolute novelty given that many international trade fairs are usually held in the winter months.
As a result of this shift in scheduling, exhibitors, visitors, NürnbergMesse employees and our service partners had to be unusually flexible. Suitable summer and autumn dates had to be found and planned with partners and exhibitors, all within a few months. Processes that had been in place for years were rethought – and often reached their limits.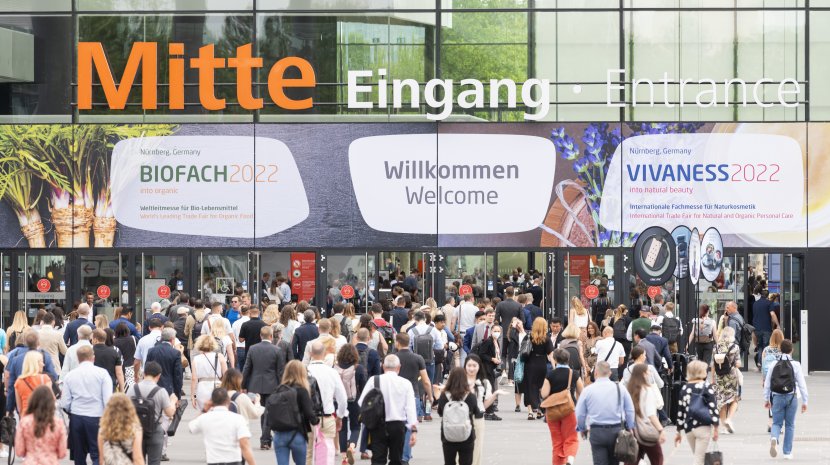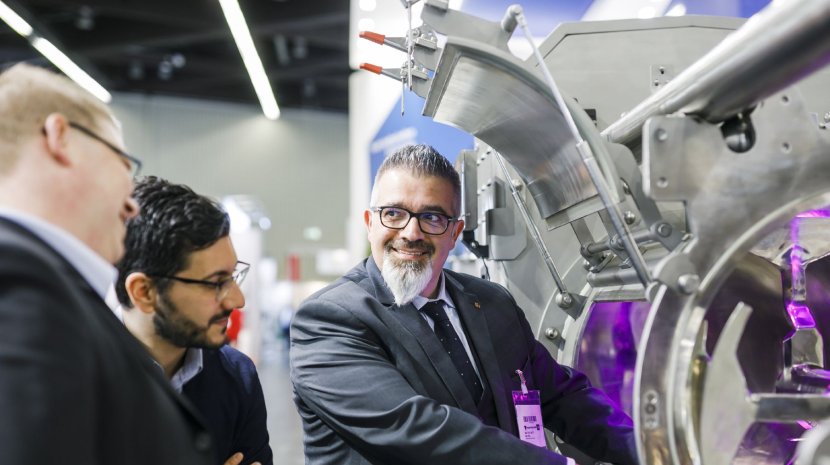 But it was certainly worth the effort: Exhibitors and visitors saw full exhibition halls in the summer and autumn of 2022. The second half of the year was packed with exciting trade fair highlights at EUROGUSS, embedded world, FeuerTrutz, HOLZ-HANDWERK and FENSTERBAU FRONTALE, BIOFACH and VIVANESS, GaLaBau (shown here), HYDROGEN DIALOGUE, POWTECH, FACHPACK, Chillventa, and it-sa.
A total of 53 events in the Nuremberg exhibition centre alone – with over 10,000 exhibitors booked on more than 400,000 square meters of exhibition space and roughly 400,000 visitors in the second half of the year – made a major contribution to the company's business results for 2022. And the large number of participants, even on the shifted dates in the summer and autumn, sent out a clear message: With the pandemic behind us, trade fairs have lost none of their appeal as a marketing tool.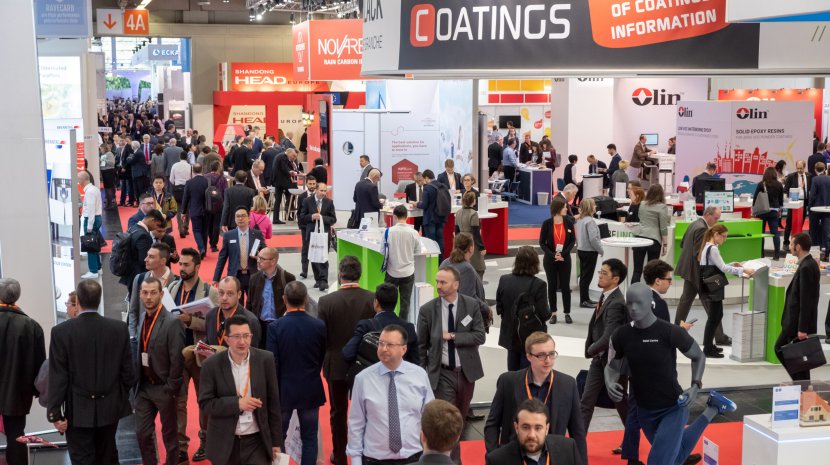 Made in Brazil – for Brazil. NürnbergMesse Brasil is a true think tank. With daring and creativity, the employees in São Paulo continue to develop new fair experiences and formats that are optimally
tailored to the specific needs of their industries and customers.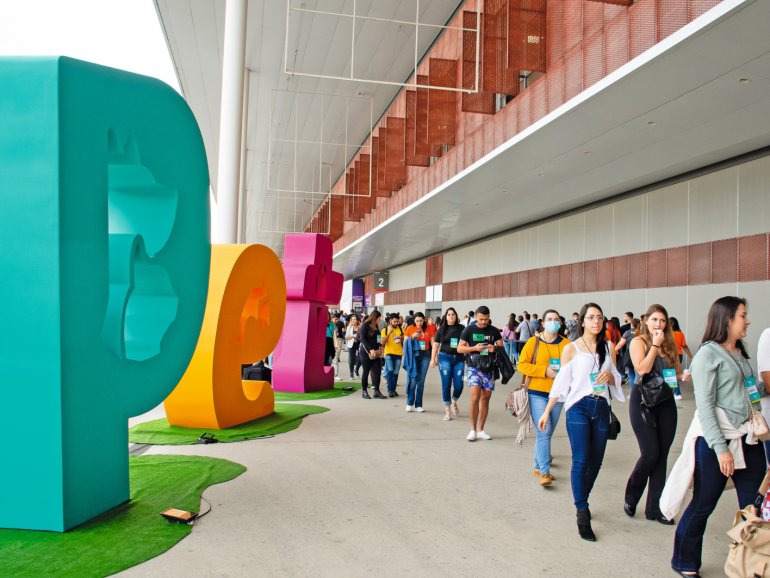 Pet is the most important trade fair for the pet industry in South America.
Image 1 of 4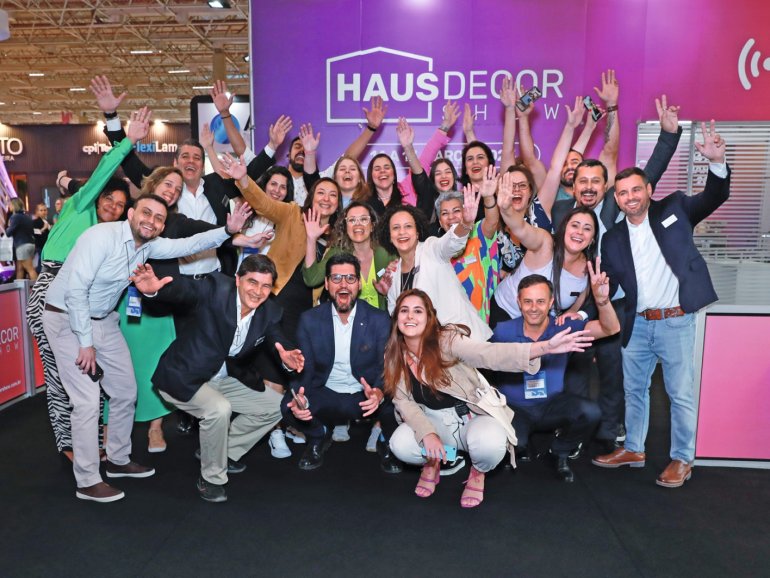 The NürnbergMesse Brasil team at the premiere of the Haus Decor Show.
Image 2 of 4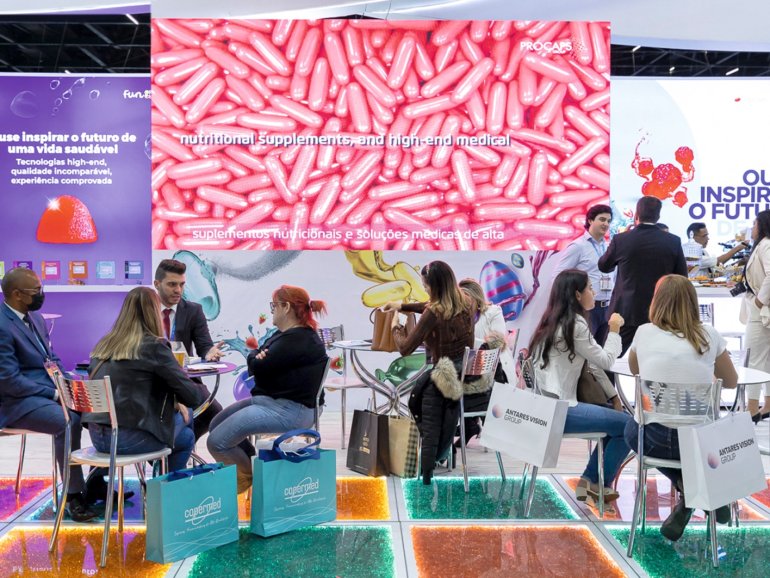 FCE Pharma has been showcasing innovations in the cosmetics industry for 25 years.
Image 3 of 4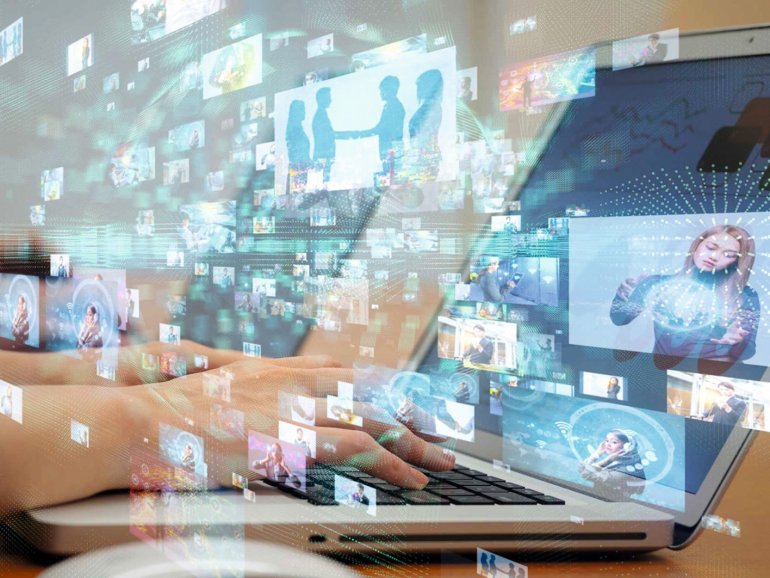 NürnbergMesse Brasil is working with Hiria to develop hybrid event formats.
Image 4 of 4
Established trade fair portfolio

New variety of topics

Hybride formats and events

From the digital lab
NürnbergMesse Brasil's portfolio includes 15 events in the pharmaceutical and cosmetics industries and the laboratory technology and biotechnology, glass technology, pet and veterinary supplies, paints and coatings, and retail sectors. The trade fairs and congresses in São Paulo are focused on key growth sectors in the Brazilian economy.
The Brazilian subsidiary offers exhibitors numerous services for their events, including marketing and communications services as well as booth and stand construction.