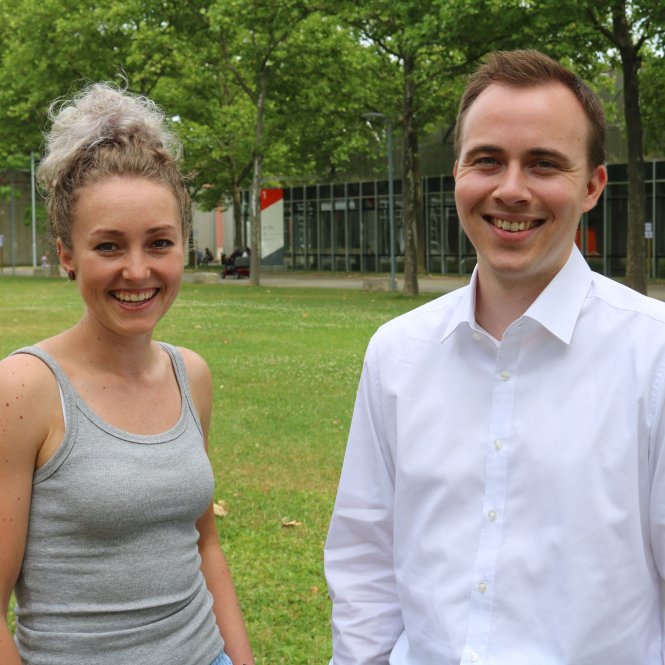 Magazine
Inspiring careers
Enthusiasm meets anticipation - trainees at NürnbergMesse
1. July 2022
Seven trainees are currently working at NürnbergMesse. They are new to the company, like Kathrin Schierl in the HR department, and William Baumeister has been in Controlling for six months. In this interview, they look back on their first months and reveal their expectations of the NürnbergMesse trainee program.
How did you two get started? Did you imagine it would be like this, or was there something that surprised you?
William: My start was very personal and very pleasant, because I worked a lot with my mentor Thomas Benzinger. He introduced me to many tasks and provided background knowledge. It was important to him that I not only complete them, but also learn from them. That has been very positive for me.
Kathrin: Of course, a new start in a company like this always brings with it a bit of excitement and nervousness. What can I expect? What will the first day be like? What are my colleagues like? When I arrived, there were muffins and a "Welcome" sign on the table. That was the first impression, and I immediately thought to myself, "Okay, this is going to be good." And I felt really well taken care of from day 1.
Where do you work every day - in the office or rather in your home office?
Kathrin: I'm a commuter and simply spend an hour on the road. So I really appreciate that at NürnbergMesse we enjoy the flexibility of being allowed to come into the office to attend appointments, for example, but can also enjoy working in the home office for a few days. I am a fan of this mix! I like to see my colleagues in the office. That's why I always try to be in the office about three days a week and use two days in the home office for issues that require more concentration.
William: I also like this general mix of working at home and in the office. Both have their advantages and disadvantages. The fact that you can decide on the mix yourself, as it suits your activities at the time, I find to be a very good solution.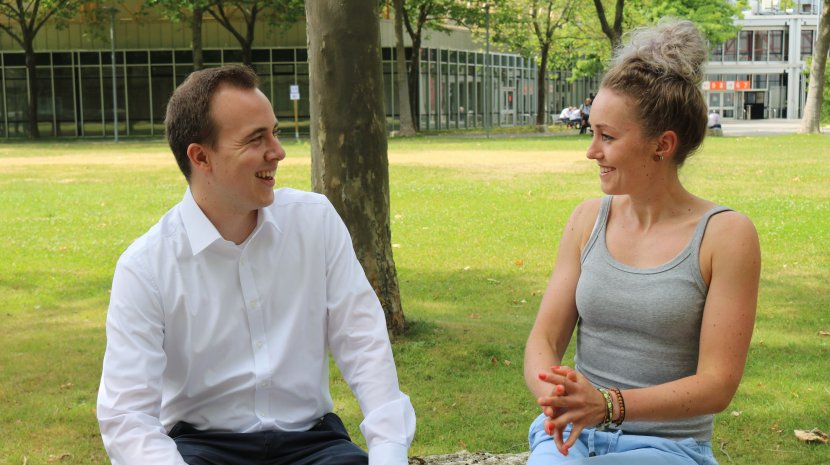 William, you started at NürnbergMesse in January 2022 in the middle of the fourth Corona wave. How do you remember that?
William: At the time there was a requirement that there should be a maximum of only one person per office. I was afraid that it would be more difficult to work and to get started. In fact, the collaboration with my team via digital channels worked out well anyway. Being in the office together, as is the case again now, is of course a lot nicer.
Kathrin, your start in April fell into a completely different phase: The start of our trade fair spring or summer. How was this time?
Kathrin: I think it always offers a lot of opportunities to get into a company at such a dynamic time. My experience was that I was very quickly visible to all my colleagues and was well integrated. This feeling of being needed and also quickly becoming an expert on a topic motivates me and is what I demand of myself. That means I found it very good to start at this time!
Enough about the past. What are your wishes and expectations for the trainee program in the future?
Kathrin: That's an exciting question, because our department will be reorganized in the future. I am therefore curious to see how my tasks will change then. I'm also looking forward to working in a different department, which is planned in my trainee program. A stay abroad is also planned. Of course, I would like to gain experience at a subsidiary, be it in Greece or Austria. Basically, my expectation is to be able to look into other areas and, at the end of the program, a job would of course be great!
William: I'm looking forward to two things in particular: Firstly, I'd like to take the next step in my department, in which I've now been trained, and deepen my knowledge. Secondly, at the end of the year I'll be moving to customer and financial accounting. There, too, it's important for me to broaden my knowledge, get a taste of other departments and meet new colleagues. And of course I'd like to be able to stay with the company in a year and a half after the program ends.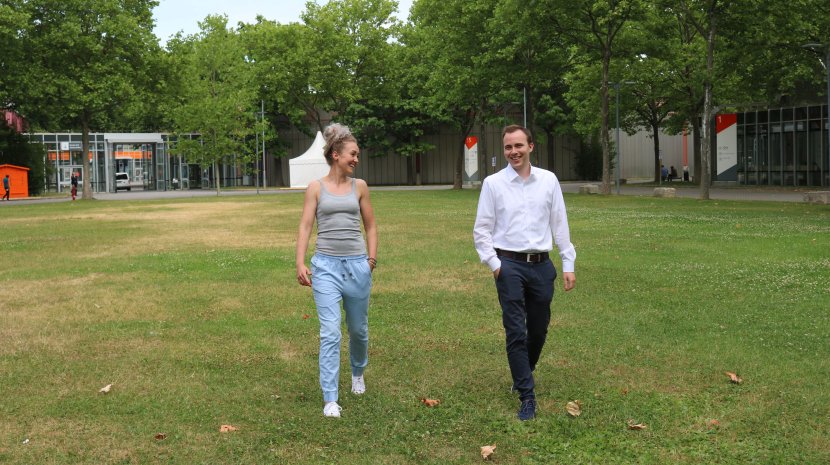 What are you expecting from the upcoming hot summer of trade shows?
William: When you see how busy the summer is, it's going to be a very exciting summer. It's life in the trade show halls again! Talking to other employees and customers, you can tell there's a lot of anticipation. So it's a mixture of respect, because you know there are big tasks ahead, and anticipation, because trade shows are finally live again!
Kathrin: I didn't experience the time without trade fairs. When you walk through one or the other trade show, you just get positive vibes. People are happy that trade fairs are finally taking place on site again. And that's what I'm looking forward to during my first assignment as a service buddy: being up close to the trade show action and gaining insights. To see how the events are run, what the customers' requirements are and, of course, to help and support them.
Thank you very much for the interview!