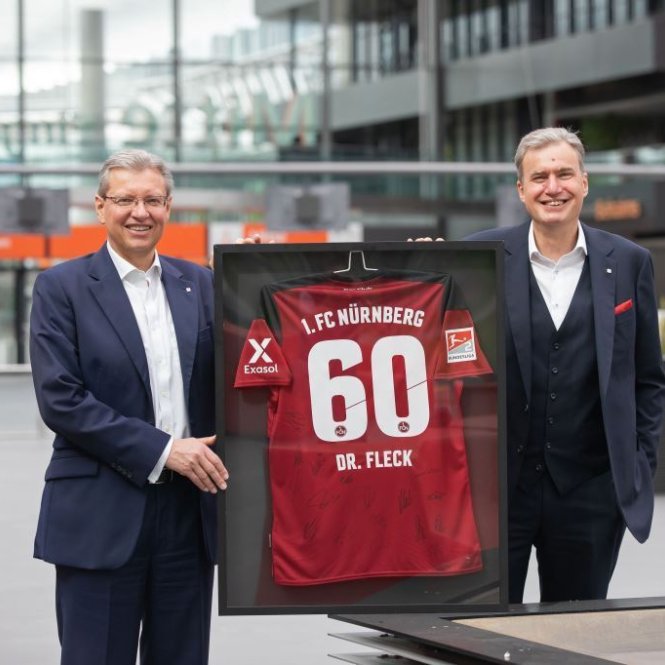 Magazine
Inspiring careers
Happy Birthday, Roland Fleck!
26. May 2021
In May, NürnbergMesse CEO Dr Roland Fleck turned 60. As no birthday party with guests was possible due to Corona, the NürnbergMesse staff collected birthday greetings from all over the world: More than 400 congratulations from over 60 countries were collected. The most distant reached Dr Fleck from New Zealand.
Dr. Fleck has held many different positions in the course of his career: banker, politician, trade fair boss - but he has always remained loyal to Nuremberg.
On the occasion of the anniversary, the self-confessed "club" fan and member of the advisory board of 1. FC Nuremberg also received a black and red gift from the neighbourhood: Peter Ottmann presented a jersey on behalf of the staff for the anniversary with the signatures of the professional team of FCN - of course with the number 60 on the back!
In his video message, Bavaria's Minister President Dr. Markus Söder also paid tribute to Fleck's commitment to his home town: "Happy Birthday! Roland Fleck was active in many functions and I was his media officer at the time. As economic officer, he was one of the most successful the city of Nuremberg has ever had. And at my suggestion, he later also became Managing Director of NürnbergMesse."
Finance and Home Affairs Minister Albert Füracker congratulates: "On your 60th birthday, I wish you all the best, happiness, success and above all health! For almost ten years, together with Mr. Peter Ottmann, you have formed the dual leadership of NürnbergMesse. On behalf of the shareholder Free State of Bavaria and as Chairman of the Supervisory Board of the company, I thank you for your great personal commitment to the good of NürnbergMesse."
The #NMfamily wishes all the best!
Image credits:
Bildcredit: NürnbergMesse / Ralf Rödel