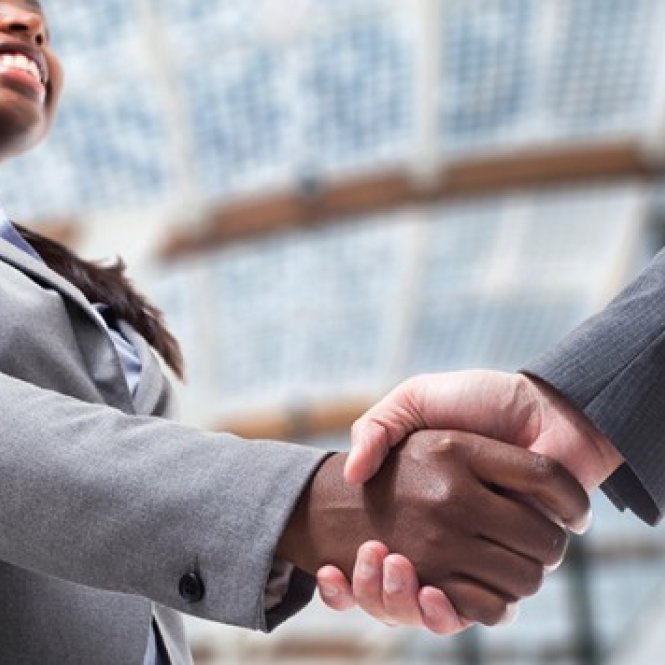 Magazine
Inspiring careers
The Brazilian way of doing business
9. July 2018
Business etiquette and tips for Brazil
Brazil is not only a dream destination, but is also experiencing an economic upswing. In 2018, the huge country between Copacabana and Amazon was the ninth largest economy in the world - ahead of major economies such as Canada and South Korea. The 2014 Football World Cup, with Germany winning the title, and the 2016 Olympic Games in Rio have also brought Brazil into the world's spotlight. We explain how you can do business successfully in Brazil. To land contracts or be remembered at the next trade fair participation, you need a feeling for the Brazilian way of life. This also includes enjoying life.
Facial expressions and gestures play an extremely important role in Brazilian communication. Women usually greet each other with an "air kiss" on the cheek; men shake hands firmly, often with the accompaniment of a friendly pat on the shoulder. In any case a firm, but not too firm, handshake and direct eye contact should put you in the right place at a first meeting. People usually call one another by their first names. They also regularly stand closer together than in Europe, even at a first meeting. So as a European, you shouldn't insist on your more distant physical comfort zone during a conversation – it's experienced as impolite.
Brazil is the mother country of body culture. Looking perfect here is an intrinsic part of good form, so Brazilians are also distinctly fashion-conscious. In major business metropolises like São Paulo and Rio de Janeiro especially, men often wear a suit and tie, and women wear chic dresses or suits. You should adapt to this dress code in the business world to avoid seeming underdressed. Punctuality, on the other hand, isn't taken quite so seriously in Brazil. For the most part, the tightly timed world of big business certainly does pay attention. But the farther you go into the countryside, or into people's private sphere, the more relaxed Brazilians become about being on time. You'll want to be tolerant here, if you want to be a success.
Business discussions in Brazil usually start by talking about something else. Going straight to the point is perceived as rude. Suitable relaxed conversation openers include such topics as football (but you probably won't want to kick off with Germany's 7:1 victory over Brazil in the 2014 World Cup!) or the telenovela soap operas that are so popular on Brazilian TV.
In business conversations proper, Brazilians tend to be very reluctant to express criticism. Instead of addressing a mistake directly, they'll emphasise the positive and would rather communicate refusals indirectly. Saying something like "that could be tricky", or "sounds good, we'll see if it works out" is preferred to an outright "no". To Brazilians, this is a polite, diplomatic refusal that mitigates the sense of rejection. So guests as well shouldn't communicate too bluntly in business negotiations.
So here's something very important: to do business successfully, you'll need to adapt somewhat to Brazilians' frank, warm manner. The joie de vivre, enthusiasm, and easy composure with which people deal with everyday situations are one of the country's chief characteristics. Unlike here in Europe, life focuses more on relationships than on functionality. People take generous amounts of time getting to know each other. Which means that in negotiations, it's important to invest especially in maintaining relationships. To us Europeans, networking and small talk seem like merely a way of getting a foot in the door to a business relationship; in Brazil, they are the door. Brazilians prefer doing business with people they already know and perceive as congenial. Behind that is a fundamental principle: your partner in a deal is more important than the deal itself. A pleasant attitude and openness are among the most important rules of the game in working with Brazilians. A shared business meal at a restaurant with good Brazilian cooking – often with one's own partner included – is a part of good form. As is the cafezinho, a strong coffee to top off the meal.
These typical modes of behaviour fall within the framework of a Brazilian phenomenon called "jeitinho". It's a term for the amazing ability to improvise that enables Brazilians to get around impediments and rules in everyday life, and find solutions for unexpected situations. A quick-witted response to unforeseeable events has proven to be intrinsic to the art of survival. In business life, this approach can be helpful, especially when there's a need for a creative, spontaneous decision. So non-Brazilians should adjust to the fact that rules are dealt with more flexibly. If you can come up with creative solutions yourself and demonstrate your own ability to improvise, you'll be on the winning side. "Jeitinho" is an important part of understanding the country's culture better, because it's very much to do with the Brazilian approach to life – an approach that's fascinating even when it's not always entirely comprehensible.
In spite of the relaxed attitudes in Brazil, there are still things you should be on the alert for there. The national beverage, caipirinha, is certainly tasty, especially on Rio's Copacabana – but the fruity flavour can easily lead you to underestimate the alcoholic impact of this sugar-cane cocktail. So be sure to enjoy it only in moderation – because drunken behaviour counts as a faux pas even in Brazil's laid-back business life.
One of the most important topics in Brazil is safety. More than one-fifth of the country's population can barely scrape together the essentials for survival. Hold-ups of tourists are part of the normal course of things, especially in the large cities. Rio and São Paulo have some of the highest levels of criminality in the world. So a tourist or business traveller should steer clear of the slums (favelas) in the major cities. It's advisable to ask business partners or other locals what areas are safe. Valuables are best left in the hotel safe. Don't go out on the street showing off conspicuous watches, jewellery, wallets or mobile phones. After sundown, it's advisable to go out only in the company of locals. It's safest to use a taxi or one of Uber's highly popular vehicles, which can easily be booked via an app.
Since you're going all the way to Brazil for a business trip, you should certainly schedule some time to explore this beautiful country as a tourist. Rio de Janeiro, with its unique natural setting around Sugarloaf Mountain, the Corcovado (statue of Christ) and Copacabana, is without a doubt one of the most beautiful cities in the world. But there are also heavenly beaches elsewhere in Brazil – whether near the exquisite city of Salvador de Bahia, or around Florianopolis, or on the fabulous island of Fernando de Noronha. If you're into untamed wilderness, you shouldn't miss the Amazon rain forest and the Pantanal wetland with its vast diversity of animals and plants. The spectacular Iguaçu Falls are an additional highlight. In any case, Brazil is certainly worth a (business) trip!
Millennia-old cultures and traditions still exert an influence in China even today. Asia expert Hannelore Seelmann can tell you the right way to behave in your daily business dealings. 
NürnbergMesse, with its strong partners and reliable networks, is establishing major trade fairs in growth markets, thus making it easier for many companies to enter those markets and get business moving there.
Image credits:
Foto: istockphoto.com/Minerva Studio