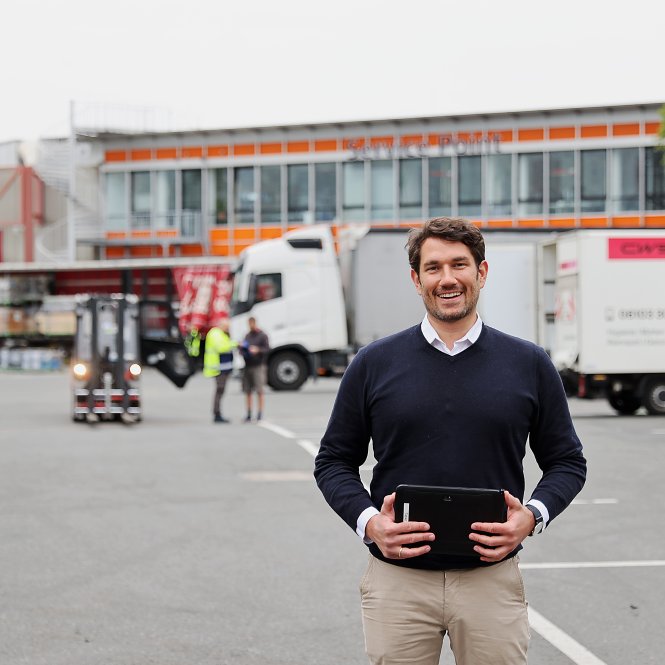 Magazine
Shaping the future
Digital revolution in trade fair logistics
6. May 2022
Digitalisation is making the logistics involved in setting up and dismantling exhibitions more efficient. Together with gts systems and consulting, NürnbergMesse has developed an innovative truck call-off system.
Delays in loading and unloading as well as traffic jams on access roads due to waiting trucks - this is a thing of the past, because NürnbergMesse is modernising its delivery logistics. "The spatial and temporal capacities for deliveries as well as set-up and dismantling are getting smaller and smaller. Therefore, we needed planning and software support," explains Dominik Fischer, project manager at NürnbergMesse. In cooperation with the partner company gts systems and consulting from Aachen, the dynamic and intelligent truck retrieval system transitfair was developed, with which the traffic flow on the exhibition grounds will be digitally organised in the future.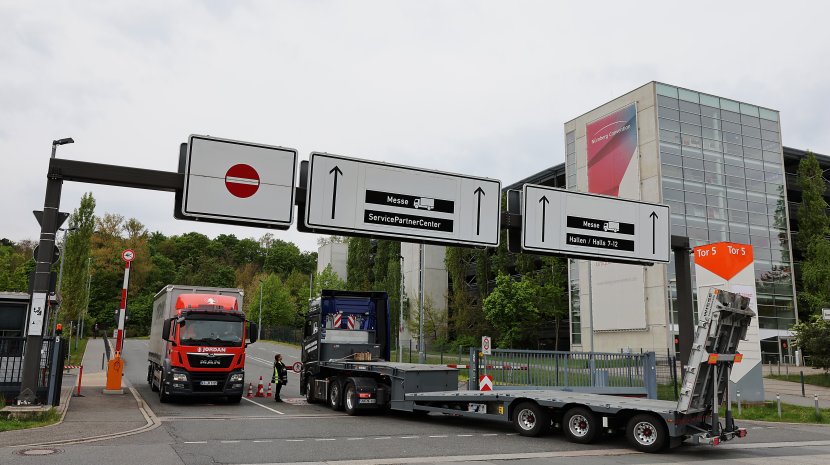 The big difference: the registration of the desired set-up and dismantling time is no longer done on site, but conveniently with just a few clicks via the reservation system. Customers register their vehicles online for access to the exhibition grounds and can book time slots for loading and unloading. This puts an end to truck queues at the access gates and reduces the volume of traffic around the exhibition grounds.
The infrastructure has also been expanded for more comfort while waiting: 21,000 square metres of truck parking space, including food stands and sanitary facilities, are now available to truck drivers as a waiting area near the exhibition centre. "If required, we can also offer catering there in future via a caterer," Dominik Fischer reveals.
Upon arrival at the parking area, the drivers register at terminals and receive a confirmation for the previously booked time slot as well as directions to the loading yard. At the reserved arrival time, the customers then finally receive a personal call or a text message, after which they can enter the exhibition grounds for loading or unloading.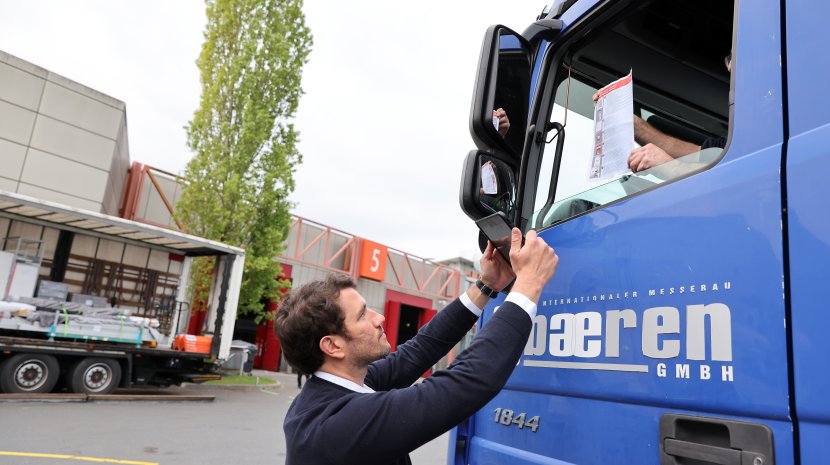 In addition to increased comfort, transitfair offers two major advantages. On the one hand, CO2 emissions are significantly reduced due to the reduced traffic volume, and on the other hand, the efficient control of the traffic flow saves costs for all customers - after all, time is money.
The system will already be used at EUROGUSS 2022 in June, but the developers of the concept are still far from reaching their final goal. Algorithms ensure constant improvement and optimisation of the logistics process. Furthermore, the expansion of the application to seven to ten languages as well as additional offers on the part of NürnbergMesse and gts are already being planned. In addition to longer set-up and dismantling times, conceivable individual booking options would be, for example, VIP parking areas or own trade fair events within the logistics area. "It is exciting to see the variety of additional services that the digitalisation of logistics will bring for our customers," says Fischer, referring to the numerous advantages of the call-off system for all exhibitors.