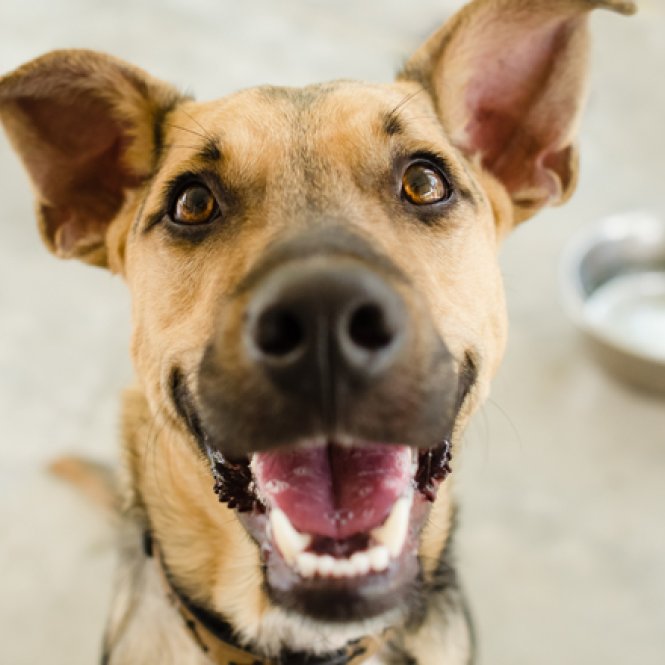 Magazine
Shaping the future
Start-up idea: Insect power for dogs and cats
14. February 2019
Different industries, different characters, their own stories. The paths to success of three young start-ups crossed at the Nuremberg exhibition centre. Part I
Hermetia Illucens, the black soldier fly. It is the most important ingredient in the pet food that a young Berlin-based start-up launched on the market this year. Since March 2018, it has found its way into more and more households with dogs in Germany and Europe through various distribution channels. "It contains more protein, iron, calcium than meat, just as many shares of vitamin B12 and minerals," explains Véronique Glorieux, "Insect protein is one of the most sustainable animal proteins currently available - and it tastes good."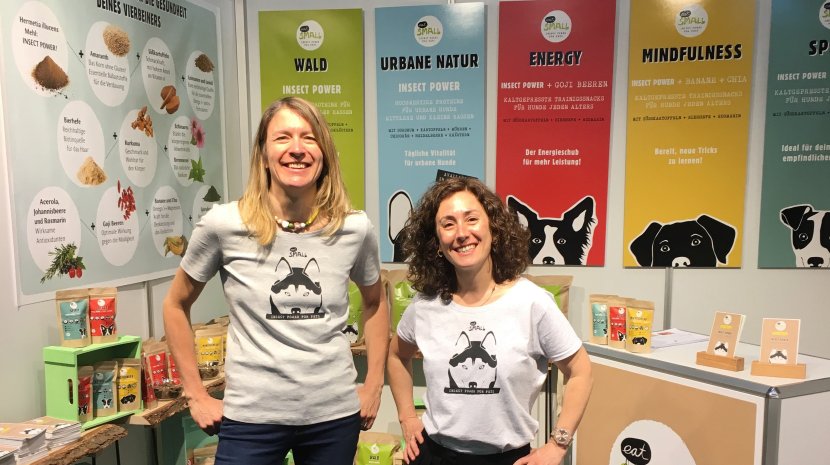 Véronique Glorieux and Gema Aparicio are the founders of the start-up Eat Small. The Canadian veterinarian and the Spanish graphic designer met at a kung fu school in Berlin Schöneberg. What they have in common is their love for animals and the desire to reduce their ecological footprint. The idea for their product came to them after reading an article in a Canadian newspaper about edible insects that are highly nutritious and sustainable for the environment.
That was in early 2017, and things moved quickly from there: negotiations with a premium Hermetia Illucens farm. Discussions with ingredient manufacturers. Further education and commercial training in the spring. Founding of the company in July. Development of recipes, corporate identity and website in autumn. Purchase of first ton of Hermetia Illucens and first production in December. In the meantime, Eat Small won a prize in the "Sustainability" category at a start-up competition in Berlin/Brandenburg. After test phases with 50 dogs of all sizes and breeds, Eat Small was ready for the market at the beginning of 2018 with four product lines and three different training snacks.
"Interzoo 2018 in Nuremberg was the ideal place for this," says Véronique Glorieux. At the world's largest trade fair for the pet industry, they were one of 21 start-ups at the joint stand for young entrepreneurs, which is funded by the German Federal Ministry of Economics and Energy (BMWi). "We were well coached before the fair and had everything we needed at the stand over the four days - including coffee and biscuits." According to an overjoyed Véronique Glorieux, the response to the trade fair appearance was tremendous: "We had such great feedback, many visitors couldn't believe that we had only recently launched."
The bottom line for Eat Small was a. A multitude of contacts with wholesalers and retailers, packaging manufacturers and suppliers of secondary ingredients. "In the exchange with other young start-ups, we also received valuable tips for dealing with retailers." In the winter of 2018, success became tangible. Some signed contracts with wholesalers are already in the safe and a new product line as a finished draft on the table - this time cats can rejoice.
Eat Small - Insect for Power Pets.
Founder idea: pet food made from innovative insect proteins - nutritional performance like meat, but much more sustainable for animals and nature
Founder team: Véronique Glorieux (Canadian veterinarian) and Gema Aparicio (Spanish graphic designer)found the start-up Eat Small - Insect Power for Pets in Berlin in summer 2017.
Founder tips: Keep going! Projects don't have to be perfect right away. Never give up! Problems can make you even stronger and more creative. Be prepared to devote a large part of your life to your startup for quite some time. Build networks! Participate in competitions and workshops and take advantage of regional, state and EU funding.
Founders' Fair: Premiere at the funded joint stand for young entrepreneurs at Interzoo 2018 in Nuremberg.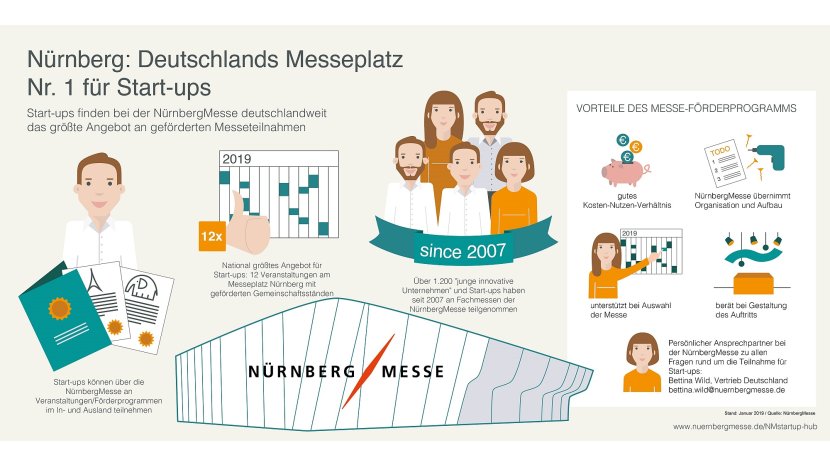 Eat Small is one of the more than 1,200 start-ups that have taken part in one of the many joint stands for "young innovative companies" or the start-up areas at the NürnbergMesse trade fairs since 2007. With special formats for start-ups at 17 leading exhibitions, NürnbergMesse is number 1 in Germany in the range of products and services for start-ups. Young companies benefit from the know-how of the exhibition and start-up experts, a direct contact person, a good cost-benefit ratio and support with organization and set-up.
Further information in the NürnbergMesse "Start-up Hub" or directly by e-mail to startups@nuernbergmesse.de.
Read about other start-up ideas from the organic food (Emils) and IT security (IT Seal) sectors that took off at the NürnbergMesse trade fairs here.
Image credits:
istockphoto.com / David Baileys