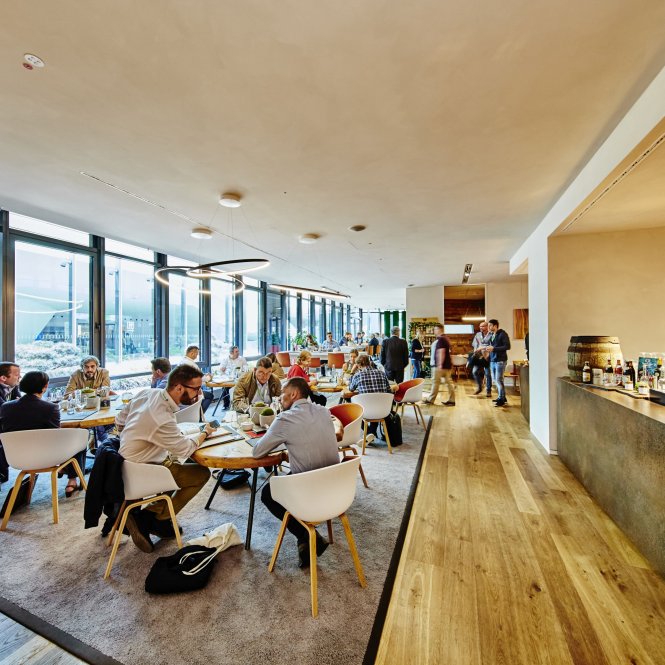 Magazine
Shaping the future
The nature-loving cuisine from Lehrieder
21. December 2022
Event catering meets sustainability. This is part of Lehrieder's nature-loving cuisine. In an interview, Managing Director Dr. Nadine Lehrieder explains how this fits together.
Lehrieder provides thousands of guests of the exhibition center and not least the employees of NürnbergMesse with healthy and delicious food. What are the facets of sustainability in catering?
Lehrieder: Sustainability in catering is very multifaceted and multi-layered: We see sustainability as a triad of ecological, social and economic responsibility. Practiced environmental protection is more than the far-sighted selection of products and goes beyond the end of any event. Thus, our sustainability efforts run like a thread through our corporate philosophy. We want to meet the highest standards and implement this quality thinking in all areas of our company by inspiring managers and employees for sustainability and raising awareness for a responsible as well as open corporate culture.
Is event catering sustainable at all? And where are the challenges?
Of course! Our expertise as a caterer lies not only in the creation of refined dishes, but also in the complete conception and organization of events. This results in a multitude of possibilities to contribute to a more sustainable use of resources and to promote social integration. As an event caterer, we are also in the fortunate position of being able to address not only a large audience, but also our partners, suppliers and employees, and to raise awareness for a more sustainable use of resources.
Questions we ask ourselves include: Where do we source our products? How can we guarantee their quality? How can we conserve natural resources? What aspects does this raise for cooperation with our suppliers? And what social issues should we pay attention to as an employer?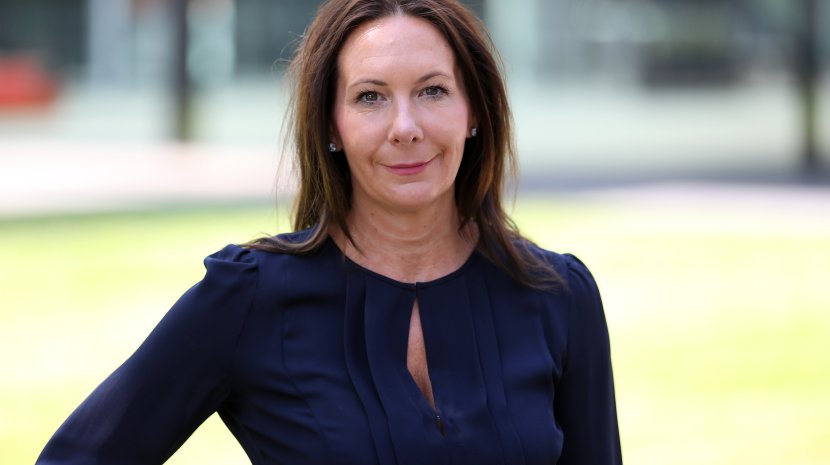 How sustainable is Lehrieder already?
In the course of our "Green Globe" certification as a sustainable company, we have also been offering environmentally friendly event catering in the form of "Green Meetings" since 2011.
In our day-to-day operations, we attach very great importance to keeping our carbon footprint as low as possible and continuously reducing it. For example, we pay attention to short, efficient routes, always adapt the use of our vehicles to the actual transport volume, and loading is carried out using the available loading areas as economically as possible. Wherever possible, our service staff also travel to the event location by public transport. We also support the use of fair trade products in the selection of our specialty coffees, thus contributing to global fair play. Not least for this reason, we have had our greenhouse gas emissions recorded and have been offsetting them since 2018 by supporting various climate protection projects. Meanwhile, we have also been a supporter of the Alliance for Development and Climate Foundation since 2019.
In addition to the careful selection of our products, we also see our responsibility in a modern and equal personnel structure: Traditionally, we fill our management positions with a high proportion of women. And our team of more than 20 nationalities ensures refreshing diversity both in front of and behind the scenes.
What role do regional products play?
For us, regionality clearly goes hand in hand with sustainable action. When selecting our dishes, we prefer regional products from organic farming wherever possible. The motto is simple: "Why go far when the good stuff is so close?" That's why we source the majority of our raw materials from producers in the Nuremberg Metropolitan Region.
The advantages of using regional products are obvious: Short transport routes guarantee freshness as well as the highest quality of the food and eliminate the need for energy-intensive intermediate storage. At the same time, the existence of the local farms is secured - and thus a high degree of transparency. At the same time, of course, we focus our menu on seasonal fruit and vegetables. For some time now, all of this has also come under our umbrella term "nature-loving cuisine", which is intended to stand for seasonal, regional and organically grown products, among other things.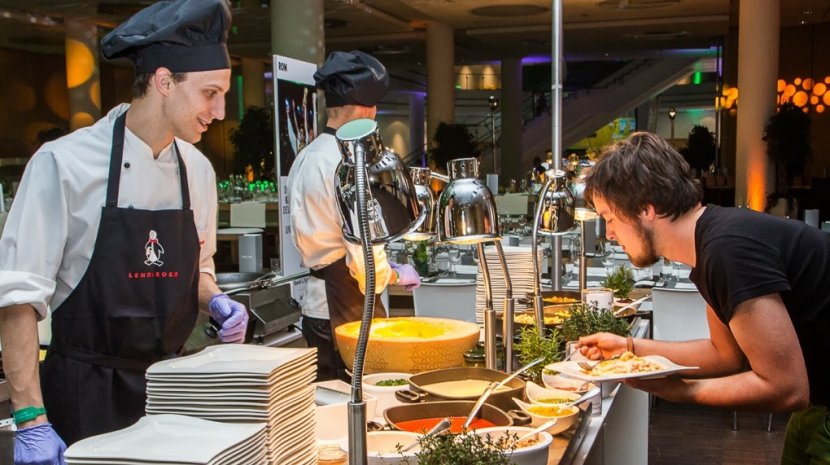 How important is healthy and sustainable food for the well-being of employees (occupational health management)?
Very important, because first of all, regional foods are usually healthier: Fruit and vegetables from overseas are harvested unripe and sometimes even treated with chemicals, which is demonstrably harmful to health. Regional and seasonal products, on the other hand, can ripen, and thus have a significantly higher vital and nutritional content. They also taste more aromatic. In addition, eating healthy food also brings a psychological aspect - true to the saying "You are what you eat." Especially in these fast-paced and anonymous times we live in, there is a growing sense of belonging. Regional products manage to give us precisely this sense of we. This advantage is perhaps even felt most quickly by employees and thus has the strongest effect.
What solutions do you have for food waste?
For us, the issue of food waste already begins in event planning and thus in purchasing. Quantity calculation is essential here and lays the foundation for avoiding food waste.
We collect food waste and have it disposed of by a specialist company. Recyclable organic waste is recycled in a biowaste gas plant. As a subsidiary of NürnbergMesse, we have a site on the exhibition grounds and thus capacities for categorical waste separation. By using a waste compactor, we save costs as well as waste volume, which additionally relieves the environment.
In addition, we make sure to reduce the use of disposable utensils and intensify the use of glass and wooden containers as well as ecological tableware made from renewable raw materials such as bamboo, wood and palm leaves. For coffee "to go," a sustainable reusable solution was introduced in the form of the "Ökocup."
What goals have you set yourself at Lehrieder?
In order to further advance sustainability efforts, the focus this year was placed on the topic of "avoiding food waste." This involves looking at how food waste can be avoided right from the start.
The starting point is the cooperation with the company SPRK. It has set itself the goal of bringing surplus goods still to the end consumer. SPRK also places a special focus on preventing food waste at the beginning and in the middle of the food supply chain.