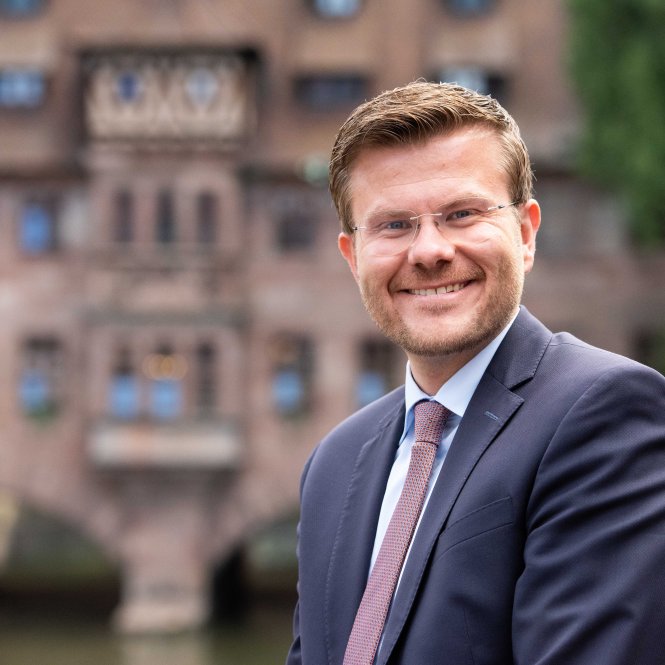 Magazine
Connecting people
Economic engine NürnbergMesse starts up again
13. April 2022
For Nuremberg's Lord Mayor Marcus König, NürnbergMesse is an important factor for the popularity and vitality of the city. In the interview, he talks about the interaction between the region, the trade fair and the economy and sheds light on the figures of a recent ifo study.
Mr König, the ifo study concludes that NürnbergMesse generates purchasing power effects of around 1.93 billion euros throughout Germany in a normal event year - 1.11 billion euros of that in the metropolitan region. How important is NürnbergMesse as an economic engine for our city?
NürnbergMesse is a very important economic and employment driver for our city and for the Nuremberg Metropolitan Region. Firstly, because it is a major employer with around 500 employees at the Nuremberg site. Secondly, it is one of the 15 largest exhibition companies in the world. This makes Nuremberg the meeting place and marketplace for central sectors of the international economy. Every year, business deals and investments are concluded and decided here that also secure many thousands of jobs in the companies regionally, nationally and internationally.
And in order to make these deals, many trade fair visitors will come to Nuremberg again in the future. They spend the night here, they eat and drink here and they also take souvenirs home. This purchasing power is extremely important for our business location. And: Our trade show guests are also welcome ambassadors for Nuremberg in their home regions and countries.
As a result of the Corona pandemic and the cancellation and postponement of trade shows, purchasing power effects amounting to 880 million euros per year have been lost in the Nuremberg metropolitan region alone. How has this affected you in the city?
We notice postponements and cancellations of trade shows first and foremost in the number of overnight stays in the hotels. There, the share of business, congress and trade fair guests in the overnight stays is up to 70 percent. When there were no trade fairs and congresses with the pandemic, the hotel providers felt this enormously. But of course also the stores and the catering trade, which have had to accept large drops in sales since 2020. 880 million euros is a huge sum. We are therefore glad that the trade show business has started again!
"Nuremberg without a trade fair, I can't imagine that."
Exhibitions have been held in Nuremberg again since September 2021, and the exhibition year 2022 started in March with EnforceTac and IWA Outdoor Classics. How did you experience the restart?
Pleased and relieved. It's starting again! You can see and experience business and trade show travelers in the city again. I am also pleased for the many NürnbergMesse employees that they can start again. Exhibition operations stood still for a long time, but NürnbergMesse never really stood still! New exhibitions could be acquired, new relationships established, new formats developed, which will be very important for the exhibition business in Nuremberg in the future.
NürnbergMesse is developing hybrid and purely digital events. The Nuremberg City Council has also held some digital meetings. Where does the future lie? Digital, on-site, or both?
After all, we all long for face-to-face encounters again. Digital conferences helped maintain contacts during the pandemic. That was very important. We all learned a lot, including in the Nuremberg city administration. There was an enormous digital push that would never have come so quickly and to this extent in "normal" times.
But the trade fair in particular - and Nuremberg has a century-old tradition here - lives very much from personal exchange. If it is helpful to integrate digital offerings into the events at the exhibition center in the future or to also connect guests from abroad, that will be an increase in offerings and service for customers.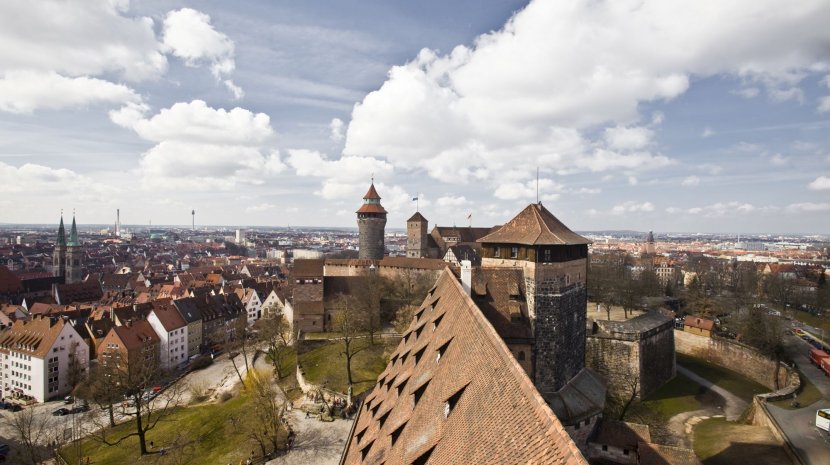 According to the ifo study, 890,000 overnight stays in Nuremberg per year are attributable to trade fair visitors. Apart from the economic effects - why does Nuremberg need the trade fair?
The number of overnight stays - in normal times - already shows it: As mentioned, trade show guests are essential for our accommodation and hospitality companies as well as the retail trade. But Nuremberg is also an international city. Around 170 nations live in Nuremberg. Almost every second citizen has a migration background. We live the exchange with other cultures.
Trade fair visitors are among the guests in Nuremberg who also enrich our urban society. Whether because they do business here or because they come back again privately with their families because they liked it so much here.
And why does Nuremberg need the trade fair? What is special about our trade fair city?
The trade fair is simply part of it! I can't imagine Nuremberg without a trade fair. Our special feature? We are extremely hospitable, we have a beautiful city, we are modern, Nuremberg offers short distances, we are easily accessible for trade fair visitors from all over the world - and we have an extraordinarily attractive trade fair location. That's a lot of good arguments for coming to Nuremberg for trade fairs, isn't it?
Thank you very much for the interview!