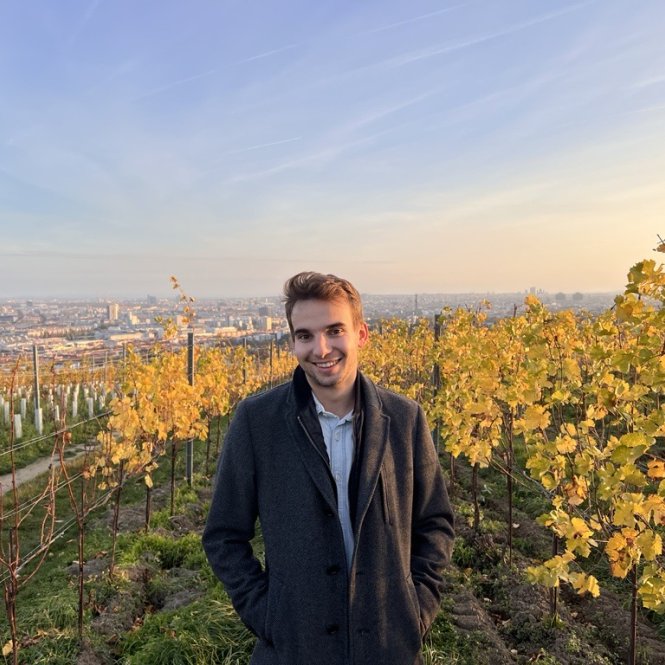 Magazine
Inspiring careers
Internship semester in Vienna
16. December 2022
Dual students at NürnbergMesse have the opportunity to study abroad or work at the international subsidiaries. In his practical semester, Lorenz Engerer is currently gaining work experience at NürnbergMesse Austria. The business administration student tells us in an interview how the work at the Austrian subsidiary differs and how he likes Vienna.
Lorenz, what does Nürnberg Messe Austria do?
NürnbergMesse Austria is responsible for all sales activities in Austria. This includes, for example, exhibitor research, the acquisition of exhibitors and visitors and the support of existing exhibitors. NürnbergMesse Austria is thus the first point of contact for all exhibitors and visitors from Austria. It is also important to maintain relations with the exhibitors. That is why we visit exhibitors at the exhibitions in Nuremberg or take part in events in Austria, where we get to know exhibitors personally. Another topic is visitor marketing, where we support our colleagues in Nuremberg.
What are your tasks in Vienna? Do you have different tasks than in Nuremberg? 
At NürnbergMesse Austria, I mainly take care of sales activities. I make a lot of phone calls to exhibitors who, for example, have already taken part in NürnbergMesse exhibitions and have not yet registered for the coming year. Or I call exhibitors who have never taken part in one of our events. The recording and maintenance of customer data also plays an important role, so that you can see what the current status is with the various customers. And also looking after the exhibitors.
What is special about working in Vienna or specifically in your team?
The work is different because there are tasks at the branch office that are assigned to a different team in Nuremberg. At the branch office, you simply do a lot of things yourself. A hands-on mentality is required. For example, you don't just look after one trade fair theme, but many different ones, which gives you a broad knowledge of the industry.
The size of the team is also different, because there are five of us sitting together in a large office, and you can always approach each other with questions. And there is a great atmosphere in the team!
How did you find out about the semester abroad? Why are you doing the part abroad during the practical phase?
It already came to my attention when I applied to NürnbergMesse. It became more concrete in an exchange with a colleague who had already been to Vienna as part of his dual studies. He highly recommended the branch to me and then also established contact between me and the managing director Inge Tremmel. I wanted to get to know working abroad. That's why I chose the foreign phase in the practical part.
How does NürnbergMesse support you during your practical semester abroad?
NürnbergMesse Austria supported me in particular with tips on finding accommodation and applying for my Erasmus grant. And they even pay the ticket for the "Öffis" (public transportation), which is absolutely great in Vienna because it is the best way to get around here. Furthermore, my colleagues know Vienna very well and gave me lots of tips on what to do in the city. And so, after three months, I have the feeling that I have really lived here and have arrived well. I have seen a lot of Vienna!
What do you take away from this time, both personally and professionally?
Professionally, I simply take away a lot of knowledge and experience in sales activities that I was able to gather here. At the beginning, I was a bit inhibited, for example when talking on the phone. But that subsides over time, because you learn how to approach customers and look after them properly. There are also linguistic differences here in Vienna: for example, you don't say "hello" and "goodbye", but "Grüß Gott" and "Auf Wiederhören". Personally, I was happy to get to know a new city again. And thanks to all the tips, I now know my way around Vienna.
What are your favourite places to eat in Vienna and what tips did you get from the team?
In late summer, the hills north of Vienna are very beautiful. There are "Heurigen" in the vineyards. These are small taverns run by winegrowers where you can also get something to eat. From there you have a beautiful view over Vienna. The Danube Island is also very beautiful. To see many sights, I can recommend the "Ring". This is a street that goes once around the first district. You can walk along it or take the "Bim", the tram. I also got a lot of restaurant recommendations, for example where to get the best Wiener Schnitzel. Even though there are many different opinions!