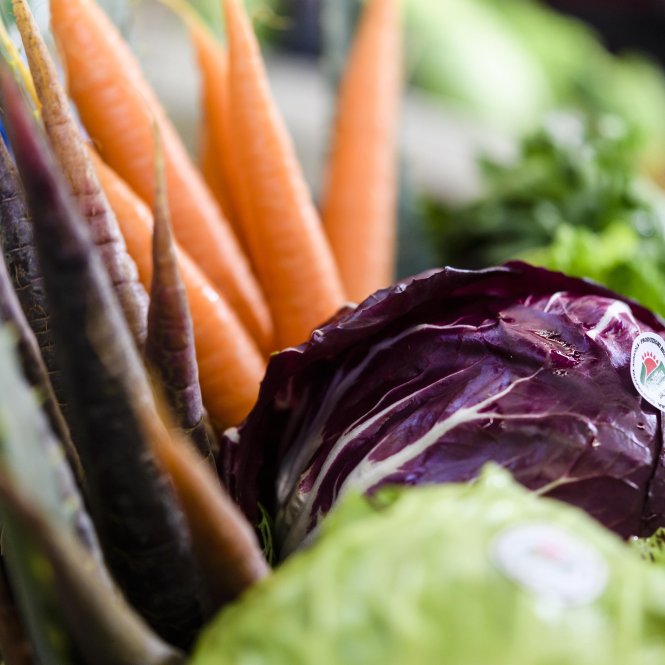 Magazine
Shaping the future
Vegan month at the fair caterer Lehrieder
20. March 2023
In January, Lehrieder showed how tasty and varied plant-based nutrition can be. For the first time, the trade fair caterer took part in the worldwide "Veganuary" campaign. The idea behind the project: to eat only plant-based foods for a month. Managing Director Dr Nadine Lehrieder tells us how this was received in the staff restaurant at NürnbergMesse.
Lehrieder provides guests and employees of NürnbergMesse with healthy and delicious lunches in the staff restaurant "Casino" every day. In January this year, exclusively vegan dishes were offered for a few weeks. "The plan was that we would make the first week in the casino completely vegan, the second week with a vegan and meat-based dish, and then the third week was once again only vegan. Honestly we did not dare ourselves for the first time to pull through three weeks fully" , explaines Dr Nadine Lehrieder. The goal of the action: To create interest in vegan options. On usual fairs the demand is there rather small. All the more importantly for the team to show that vegan can be also varied and attractive.
For the Veganuary, the chefs, the purchasing department and the serving staff were trained. "The chefs are used to meat and fish dishes through their training or everyday work. For vegan meals, other products have to be used and the purchasing department also has to get used to it," explains Dr. Nadine Lehrieder. No problem for Lehrieder, who has been certified organic since 2007.
Sustainability, seasonality and organic food have long had a high priority at the exhibition caterer of NürnbergMesse. Even in regular operations, guests and employees have a vegetarian or vegan dish to choose from every day. But for the Veganuary, the Lehrieder team has come up with completely new recipes. What stands out, the highlights of January were classics in vegan. The seitan gyros, black beans burger and vegan bolognese topped the list of the most popular dishes.
The feedback on the Veganuary - mixed. But despite the initial skepticism, Lehrieder's team draws a positive conclusion. A total of one ton of CO2 could be avoided by the action. A fact which makes desire on more. "The Veganuary is a nice start to the new year. In the casino we offer special actions from time to time and the Veganuary is now a firm component in January" , confirmes Dr Nadine Lehrieder. Whether there will be a completely vegan or mixed weeks in January 2024 is still being planned.