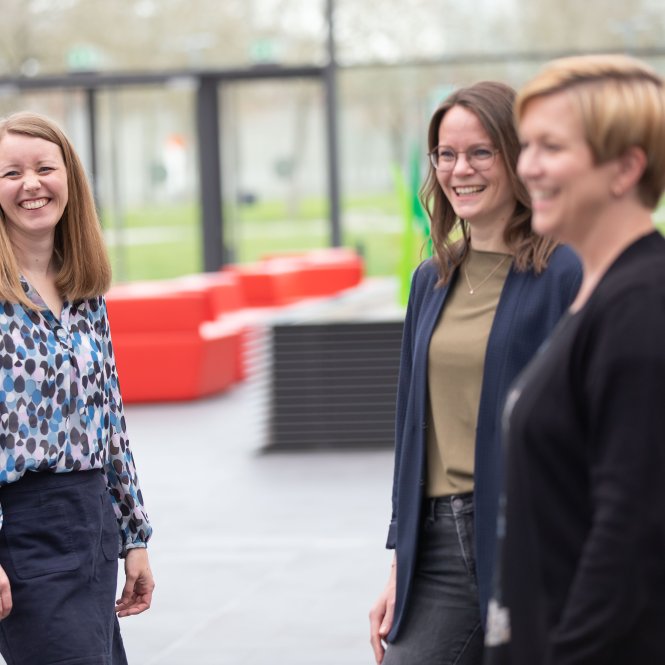 Magazine
Realize career
Jump mentoring program: Two years on
8. March 2023
Equal opportunities for all - that is the goal of "Jump". The program at NürnbergMesse prepares female employees for the manager role. A good one and a half years later, we spoke again with former participants. In this interview, Daniela and Martina tell us what they have learned from the program to date.
We interviewed you at the end of your participation in Jump. At that time, the headline was "Equal opportunities for all. How would you rate that today?
Martina: I think it's good that NürnbergMesse stuck to the program even in the difficult years of the pandemic. I think it would be nice and also important if there were more female managers in general. However, I think it is already developing in a good direction in recent years.
Daniela: Jump gives you different methods that you can use and implement. You have to seize these opportunities yourself. The fact that you get the chance to be part of Jump doesn't mean that it will develop afterwards exactly the way you imagined. You have to keep at it yourself. You can't necessarily do everything on your own. You also need colleagues and managers who encourage and support you.
What impetus did the program give to your career?
Daniela: I can't help but think of my final Jump colloquium in the summer of 2021. The word self-confidence was in focus for me at that time. As a result of my further development, I trust myself more in a wide variety of situations and have more confidence in my knowledge and skills.
Martina: For me it was the realization that a weakness is not bad per se. Supposed weaknesses can also be an advantage in another place. It always depends on the perspective from which you look at it.
What have you taken away from the program to date?
Martina: Through Jump, I have learned a lot about myself and also about different "types of people". Since Jump, I pay more attention to how different people tick. It doesn't help if there are only characters in a team who want to get through the wall with their heads, are very present and loud. It's also the quiet and thoughtful ones that we need in the team. As is often the case, a heterogeneous mix is the most effective.
Daniela: There are many small aspects that accompany me every day. As Martina already mentioned, the topic "different types of people" is always present. One example is that in explosive situations I ask myself why a behavior triggers me. Is it because , it really bothers me, or is it something I would like to internalize more myself. And again and again I come to the realization: communication is everything, both internally and externally.
Two years ago you applied to Jump because you wanted to face new challenges. What challenges did you face?
Martina: At the moment, the big challenge for us is the capacity in the team. I am in charge of two trade fairs and have to distribute the capacities so that I can do justice to everyone. But basically I still like new challenges and being supported.
Daniela: In the last few years I have managed two big projects. Like Martina's example, it was about dealing with resources, capacities and ups and downs. Here it was important as well to communicate regularly and transparently, for example, to clarify misunderstandings and different goals before conflict arose.
Back then, you became more linked up trough Jump. Have you been able to maintain this exchange after almost two years?
Martina: We have a joint weekly exchange with our Jump cohort. Even if we don't always manage to have everyone there, our conversations are always very trusting and open at the same time, even after two years. I find that very valuable.
Daniela: The discussions are not limited purely to professional matters. Private topics are also part of it. I also find it nice that most of us are still in close contact with their mentor.
What defines good manager for you?
Martina: A good manager is one who treats employees with respect and treats them as equals, as well as one who recognizes and uses the existing potential in the team. Furthermore, employees should be deployed according to their strengths. In my opinion, this is a very good basis for successful work and, above all, for having fun at work.
Daniela: I think empathy is indispensable in a modern, or contemporary style of leadership. I notice that in structures where there is no longer a hierarchical management style, there is a different kind of cooperation - a stronger one. Here, cooperation works better even in difficult times. Even in situations like the one Martina described.
What is your advice for women who are interested in Jump?
Martina: Follow through and don't be told too often that you have to be loud to be visible. Assertiveness doesn't have to be loud.
Daniela: It's very important to be open. That's the only way you can get to know yourself better and work on yourself. You have to want to do that and dare to do it. On this basis you can achieve a lot.
Daniela and Martina, thank you for the (second) interview!